Posted by REW Marketing on

REW launched our new REW CRM last year and we were excited to bring a real estate CRM to market that makes lead management faster and easier.

Since then, we've received feedback and suggestions from our clients on ways to make REW CRM even better. We took those ideas, combined them with some of our own, and created a new update to REW CRM. Without further ado, we are delighted to share some of the new features and improvements you can now find in REW CRM:
Responsive saved search emails
A few months ago, several clients mentioned their desire to have responsive saved search emails. It was a great idea and we got to work! We researched existing saved search emails on the market, prototyped an even better version, shared it with several clients for their feedback, and then made additional revisions based on that input. Our responsive saved search emails are now ready to be shared with the world and are included in today's REW CRM update for clients on Vision and Fredrik websites.
These new responsive saved search emails are designed for optimal display on any device, including phone, tablet or desktop. This way your saved search emails will look gorgeous on any device your clients may use.
Learn how to enable responsive saved search emails for your website.
"What's Next?" side panel
One of the coolest features in this release is the "What's Next?" side panel. Taking inspiration from our Dashboard, this panel allows agents to stay on top of lead follow-up by quickly viewing and actioning their Action Plan tasks—no matter where they are in the CRM.
The "What's Next" side panel provides you with a list of all your incomplete action plan tasks. You'll be able to see a description of the task, when it's due or how long it's overdue.
Additionally, you'll be able to action, dismiss or delay your tasks directly from this side panel. Even better, all actions are done in a modal window so you can complete your tasks and not lose your place in your CRM.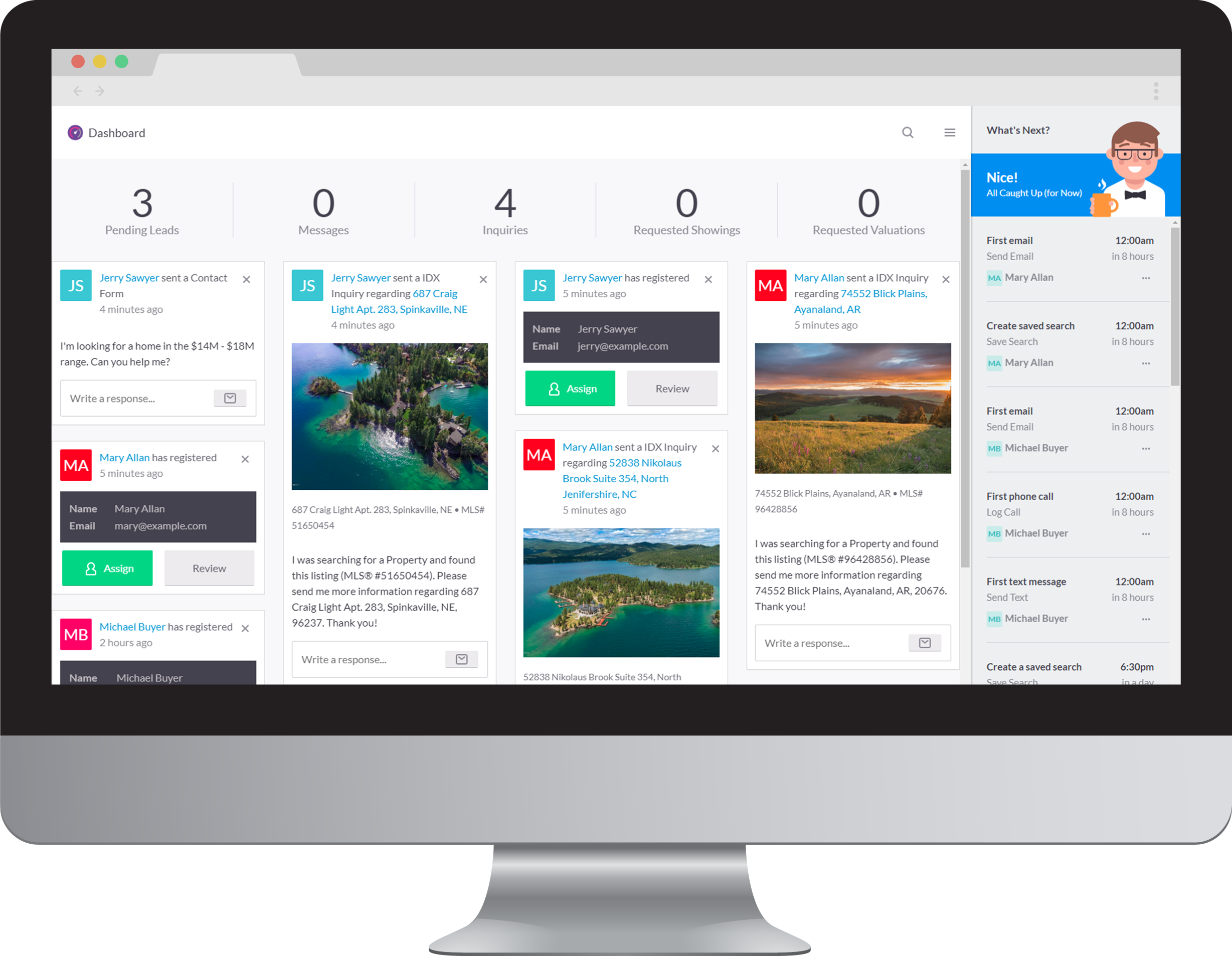 "What's Next" is another iteration of how REW CRM enables you to work at the top of your game. By staying focused and organized, you can provide outstanding service that will wow your clients.
Learn more about the What's Next side panel.
Improved Zillow integration
We've improved our Zillow integration to allow incoming Zillow leads to either be assigned to a specific agent or to your selected lead routing rules (round robin, Shark Tank, etc.)
In the past, Zillow integration was linked to a specific agent account and that agent would get all the leads. But with this setting enabled, leads sent to your REW site through Zillow can automatically follow the lead routing rules set by the site. Awesome!
Best of all, you can choose the setting on a per agent basis. For example, you could enable the broker's account to send their Zillow leads into auto-rotation, and still disable the setting on individual agent accounts to allow team members to collect their own Zillow account leads.
View the Zillow support guide on Help Center.
Shark Tank: a new lead routing feature
This release also includes Shark Tank, an auto-rotation feature built for competitive teams. With Shark Tank, all new leads go into one pool, your agents get notified via email and it's up to your agents to claim them on a first-come, first-serve basis. Shark Tank rewards agents who are on the ball and ready for fast follow up!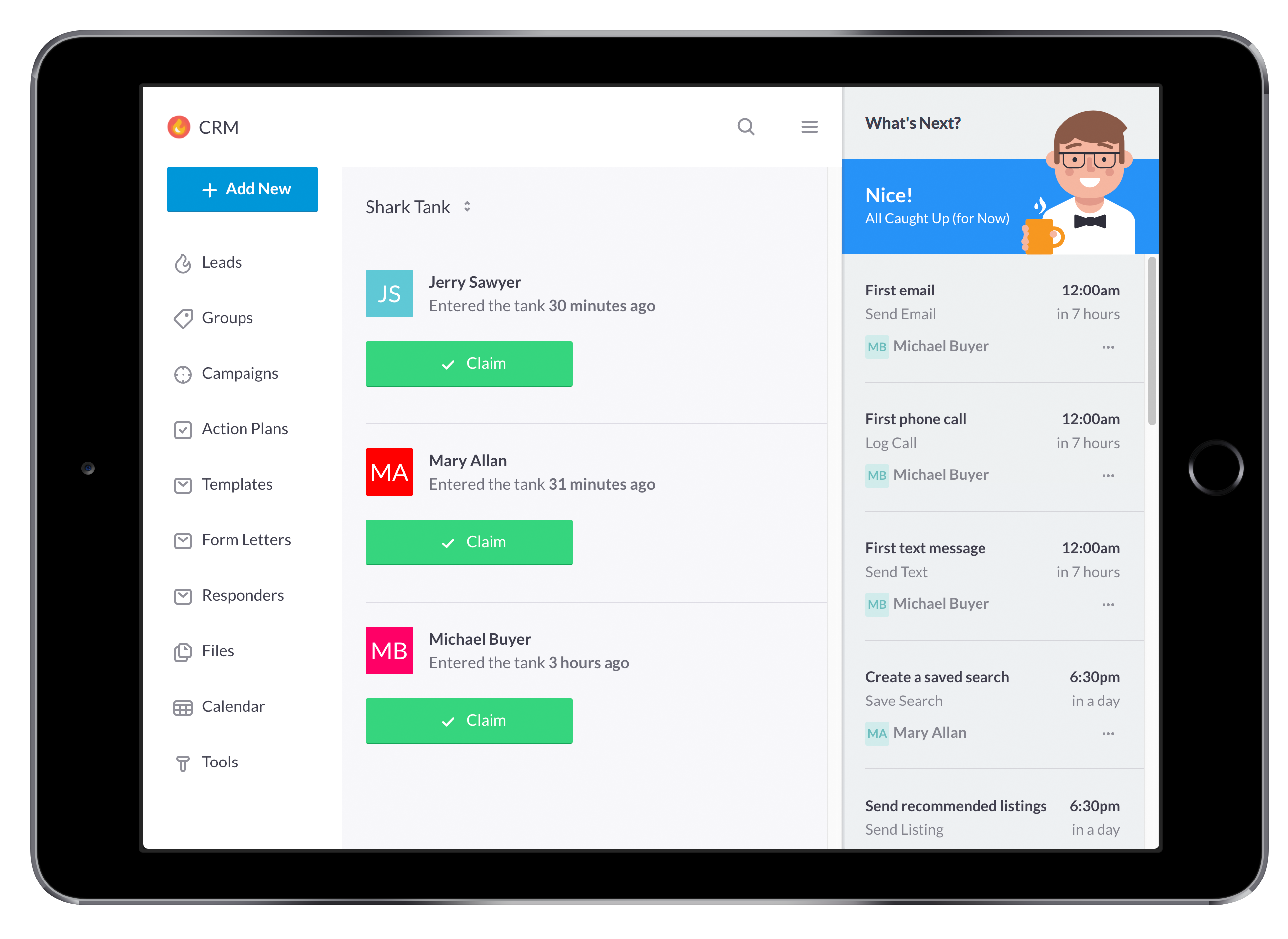 Find out how to enable Shark Tank in REW CRM.
Who will be getting these new features?
This REW CRM feature release is free and available to all clients on REW CRM who have not implemented customizations. This is part of our ongoing initiative to provide innovative, practical, and easy-to-use technology to our clients.
Those who have customized REW CRM are also welcome to receive the update but will be responsible for the costs of any extra work required as a result of those customizations. If you've customized your REW CRM and would like to begin the patching process, please contact your product consultant to receive an estimate and initiate the process.
Starting today, we'll begin patching all existing REW CRM clients with the new release and anticipate this work to be complete by March 2, 2018.