REW CRM was built to make real estate agents' jobs easier and we want to help you make the most of the CRM's lead management system. In this latest blog post, we're going to talk about how you can use REW CRM to improve your lead follow-up, amp up your efficiency, and close more deals!
Check your Dashboard regularly
Make a habit of checking your dashboard throughout the day, starting when you begin work, and again whenever you have a spare few minutes here and there. Your Dashboard prioritizes your most important actions, telling you what to do first.
As a quick reminder, here's what you'll find in your dashboard:
People who just registered on the site
New leads that are assigned to you
Rejected leads that you assigned
People who have sent an inquiry or message
All four types of interactions are best served by fast and thoughtful follow-up. By checking your Dashboard (on any device) while you wait for your coffee to brew or in between appointments, you'll be able to follow up quickly, build better relationships, and increase your productivity.
Pro Tip: You can also use REW Leads' push notifications to alert you of new leads and reminders, but you'll still need to sign into REW CRM or REW Leads to see your inquiries and rejections.
Work new leads in 60 seconds
Once you've accepted a new lead from the Dashboard or CRM tab, it's time to implement a simple lead follow-up regime that will kick off your relationship building with a bang! Here's what we suggest:
1: Click on your lead's name to utilize the Lead Summary
2: Investigate their history to learn what they're interested in
3: Phone the lead, then record the outcome
a. If you reach the lead, set up a Saved Search while on the phone
b. If not, send an email right from REW CRM
4: Set a quick reminder to follow up in a couple days
One of the absolute best habits you can get into is setting a new reminder every time you interact with a lead. Whether you're meeting in a couple hours, or simply want to follow up in a few months, reminders will help keep you organized and in touch.
Schedule appointments right into REW CRM
After you've cleared out your Dashboard, it's time to check in on your calendar. With appointments and reminders united, the REW CRM calendar is a simple and effective "to do" list for each and every day.
This efficient overview tells you everything you need to get done in a day (assuming you've been keeping it up to date!) In between your meetings and appointments, use the Calendar to stay focused and work through your reminders one by one.
When a lead decides to meet with you, or you've arranged any type of commitment, simply hop into the calendar and make a note of it. Categorize the appointment by an array of categories, including Phone Call, Meeting, Personal, and so forth, which create an incredibly handy overview once you're familiar with the color codes.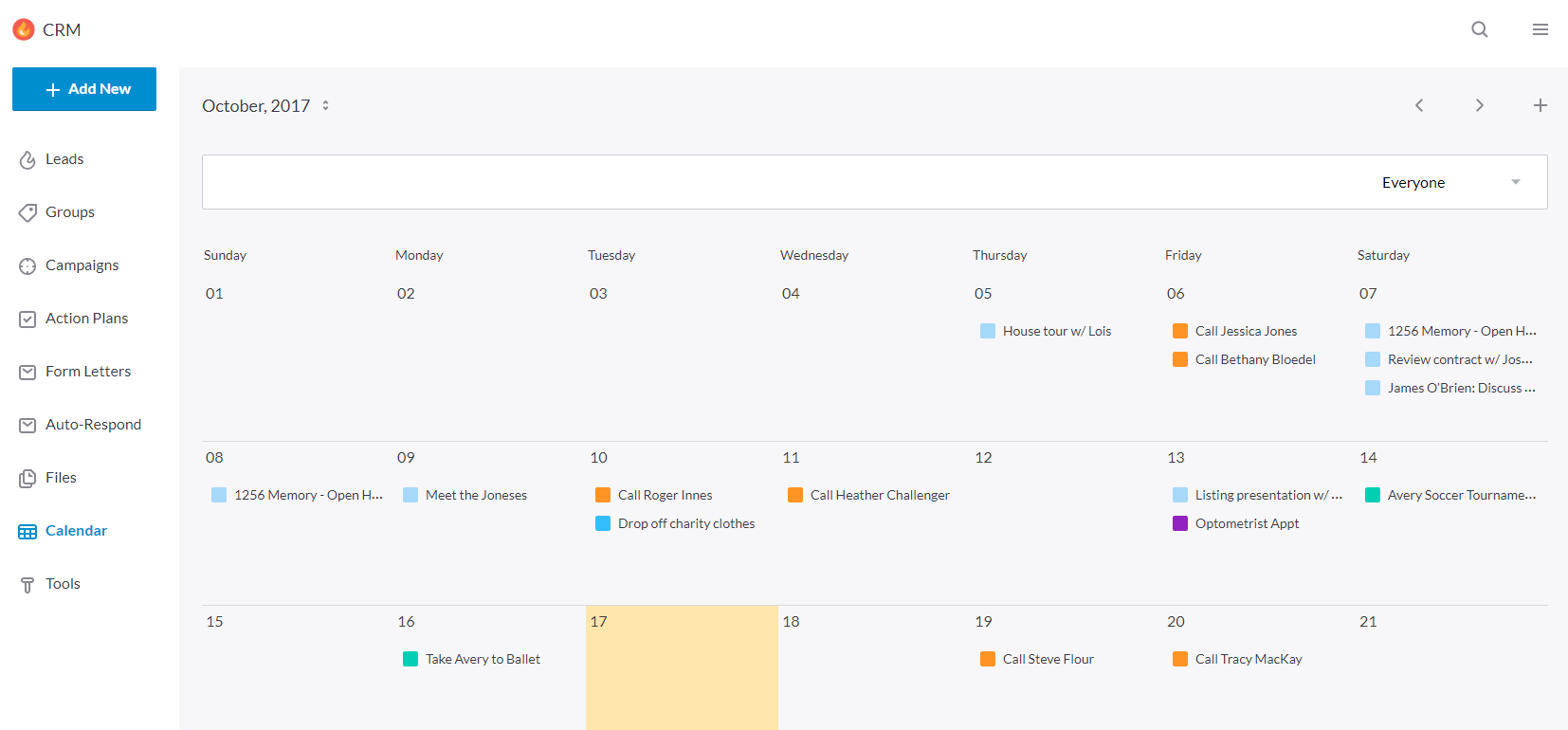 If your appointment involves another agent who is in REW CRM, you can simply add them to the event with the click of a button, and the event will automatically be added to their calendar too.
As you complete a task in the Calendar, write a quick update in the lead's History, and set up a Reminder for the future. Ensuring you always have a future touch point planned is crucial for maintaining relationships over time, especially as you get busy.
Save time with instant emails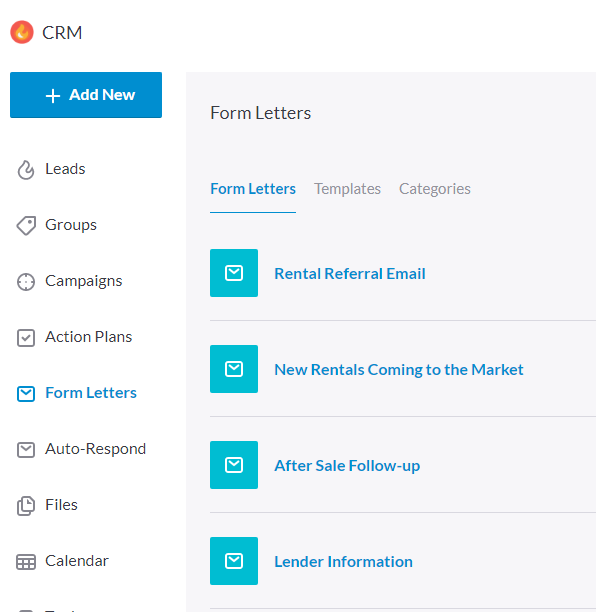 Ever find that you're writing the same emails over and over? The next time you write an email that you love, save a copy and save it into your Form Letters.
The next time you go to email a lead, you can select the saved email from the "Pre Build Message" drop-down. Your email will instantly be populated with the message! Simply give it a quick check for accuracy, and then hit Send.
The more you build out your Form Letters over time, the better you'll be able to integrate this feature into your workflow, and the faster your communications will become. You'll never have to write out the same email twice.
If a lead is warm but not ready to buy or sell, you can also use Form Letters to build out Campaigns, which allow you to send a series of drip emails over time. Simply set up your campaign and assign it to a group. From then on, all you need to do is assign a lead to the corresponding group, and they'll receive your email campaigns automatically!
Form letters and drip campaigns are a powerful way to build up new relationships and stay in touch over the long term, with minimal ongoing effort. When you let technology take over your repetitive daily tasks, you'll have more time to focus on other areas of your business.
---
There's a lot you can do with REW CRM to make your job easier. This post outlined 4 ways to help you get started, but we only touched the tip of the iceberg. REW CRM power users will be able to take full control of their workflows and implement countless strategies to get work done faster and easier.
To explore REW CRM further, please find more information here or call 1-877-753-9893.
Tags