One of the coolest things we've ever made at Real Estate Webmasters is the REW Leads app. Full disclosure, I'm the lead developer of REW Leads for iOS, but that just means I know how powerful it really is in helping real estate teams conquer their lead follow up.
REW Leads was built with one goal: to make lead follow up faster and easier. That's it. That's all it's meant to do. But that simple goal is a ridiculously huge advantage for real estate teams that use the app properly. It means your team is connecting with people before your competition and staying in touch with significantly less effort. That's a beautiful thing.
If that alone is convincing enough, let's talk about 5 more reasons your team should be using the REW Leads app:
5. Get push notifications for new registrations
Do you want to know the moment you have a new lead? Of course, you do! That's how you ensure quick and meaningful follow up with all your leads, and it's how you connect with people while they're still on your site.
REW Leads helps you build these positive experiences by alerting you within seconds of when a new lead registers, so you can do your thing immediately.
4. Share information & connect effortlessly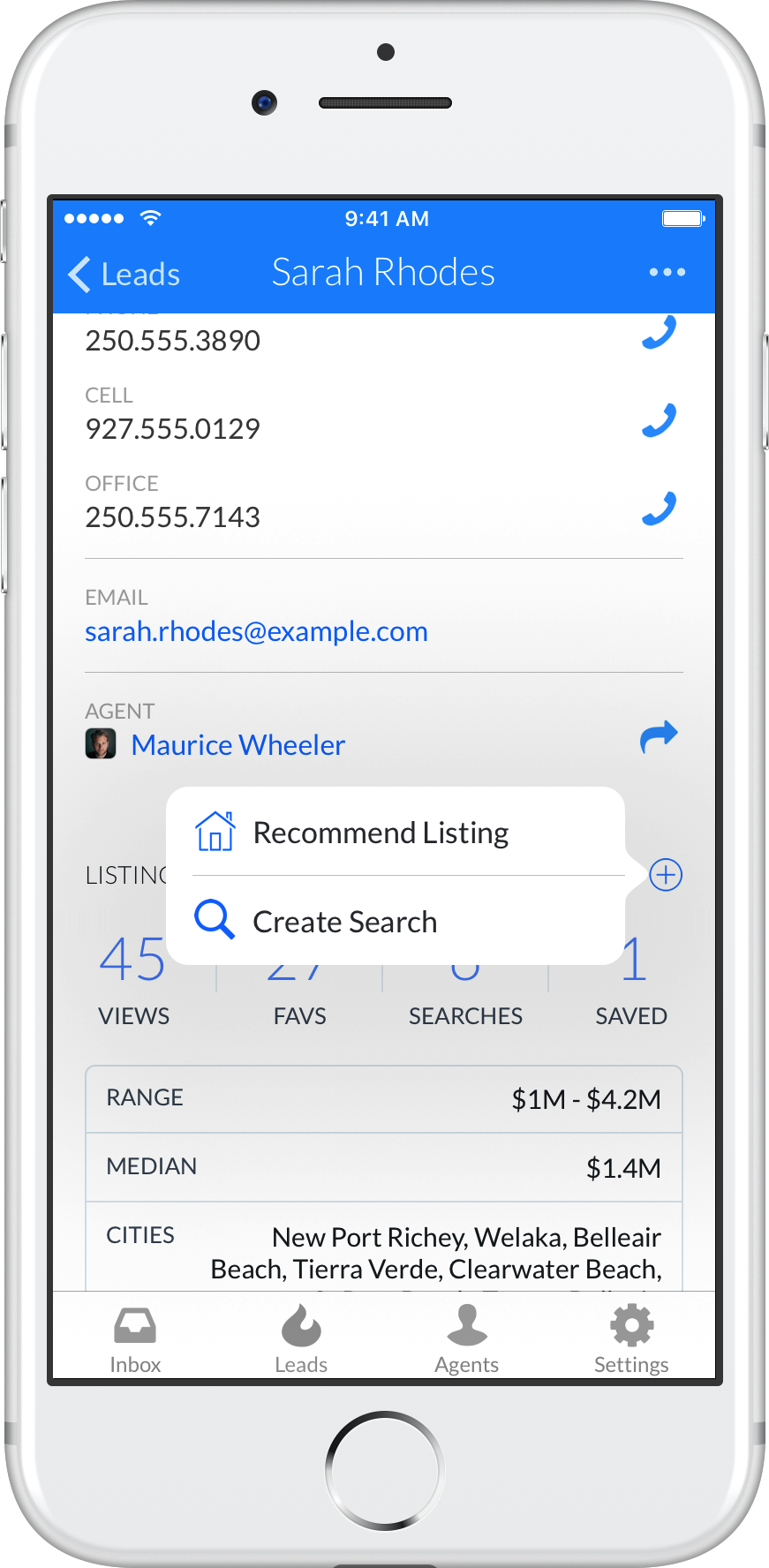 We've put a lot of features into REW Leads that are meant to make tasks faster and easier than ever. By considering the actions and interactions that Realtors are most likely to perform, we were able to build a suite of tools that simplifies these actions.
Here are just a few of the things you can do with the app:
Call or text your lead & record the outcome
Recommend a listing
Create saved searches
View the lead's history, including:

Activity history
Viewed listings
Favorite listings
Agent notes
All of these actions are things that agents should be doing as part of their regular lead follow up, but we've put it into app format and made the action possible in the bare minimum amount of clicks.
You can read more about these benefits in this hot REW Leads features post.
3. Remember important actions with push reminders
In addition to finding out when new leads have registered, you can also set up push notifications that remind you when you have follow-up actions to complete. Simply create a reminder in your calendar and you'll receive a push notification when it's due. These can be particularly handy if you want a nudge to follow up on a specific action or event.
Today, reminders are available in the iOS app, but they'll be coming soon to the Android version too. Learn more about setting up your reminders on iOS in this blog post.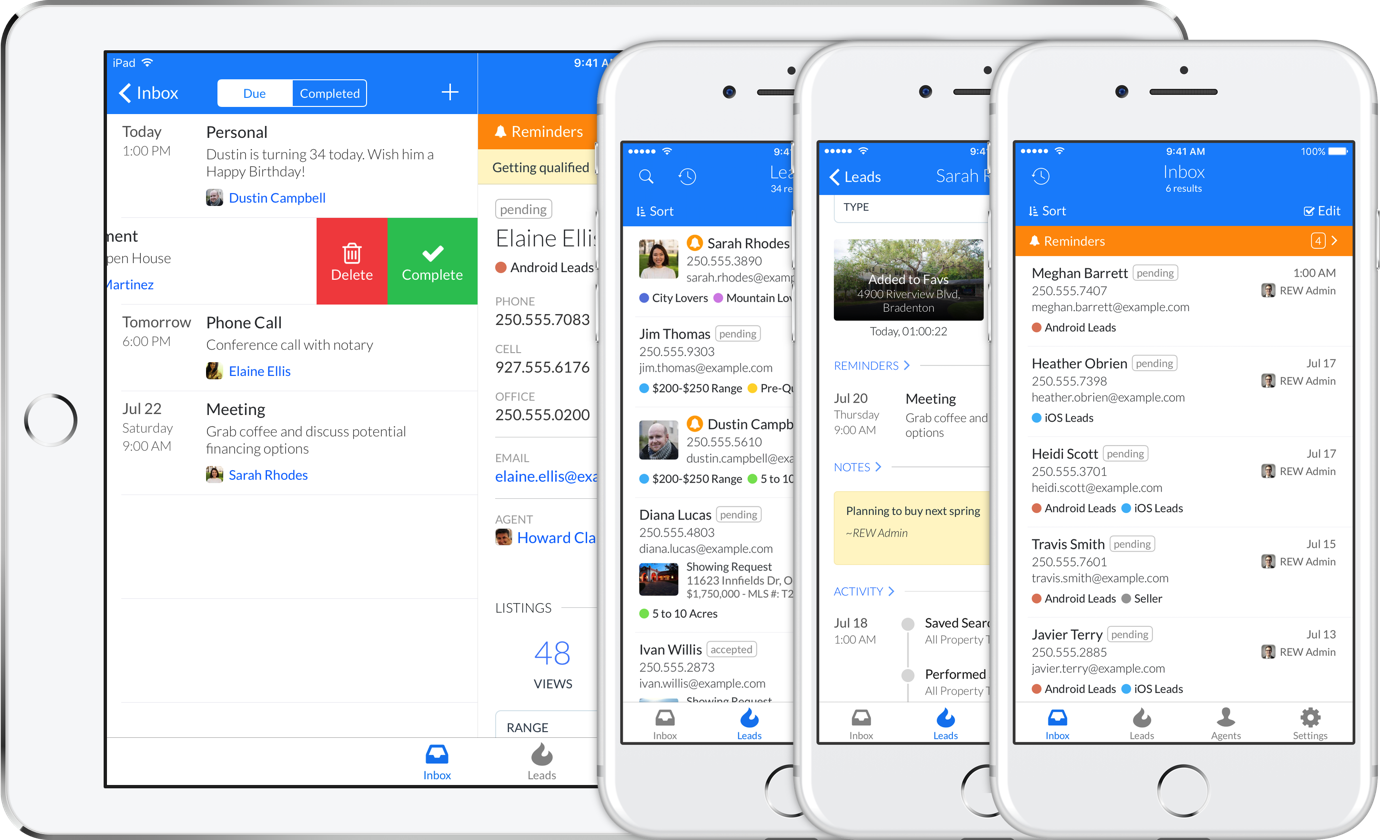 2. Personalize your lead routing
Our regular REW CRM has three useful lead routing options--round robin, Shark Tank, and manual--but the REW Leads app has additional options that allow you to ensure leads are always going to the best agent possible. Essentially, you can set lead routing rules that will override your default settings when one of the rules applies.
These rules can be set based on:
price range
property type
location including city, subdivision, & zip codes
This is particularly powerful for teams that have agents who specialize in specific types of real estate, or who cover certain territory ranges. It also means you can ensure an agent always (or never!) covers their own neighborhood, reward your top performing agents with the best leads, and keep commercial properties from hitting your residential specialists.
1. Complete tasks faster with native app controls
One of the primary benefits of apps, in general, is that they're built for the specific devices that they're used on. For example, our iOS version of REW Leads was created for Apple devices, while our Android version was built for Android devices. This is an important distinction because it means you'll be able to use the phone controls you're already naturally comfortable using which results in faster and more efficient interactions, allowing your team to complete tasks faster.
For example, check out this quick video that shows how you can use Apple's 3D touch "peek and pop" capabilities within the REW Leads app:
* Bonus: it's included in your SaaS
There's one final reason your team should be using REW Leads: it's included in your SaaS for REW CRM. We've built this app as a complimentary (and complementary) companion to the REW CRM, focusing on the follow-up aspect of lead management and giving teams another tool for market domination.
If you're not sure whether your team will love the REW Leads app, take my word for it: they will. But if that's not convincing, give it a try for a couple weeks. It's completely free for you to use and you have nothing to lose. Try it now: