1. What is your position at REW?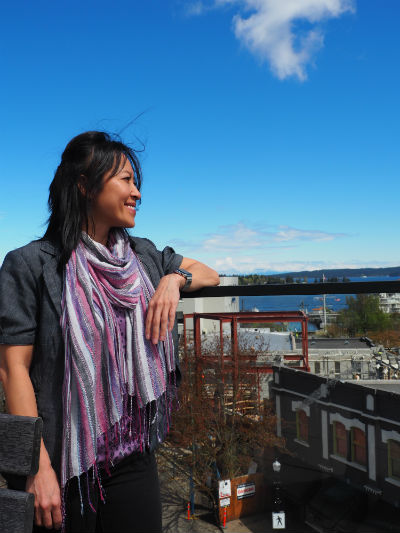 As Director of the Product Development team, I currently support a talented group of team leads, designers, programmers and developers in launching REW's suite of technologies.
2. What does a typical day look like for you?
The general cycle is pretty simple, I start with a plan for the day and complete the objectives I had set out. There are typically 3 key areas I focus on:
A) Projects - are they on schedule and within the scope of work and quality expected? A daily scrum meeting takes place every morning on the major projects with the purpose of understanding every team member's achievements from the day before, what they have planned for the current day, and what the barriers are for continuing their efforts on the project. If the project schedules are not on target, I work with our project manager and the team to resolve and mitigate associated risks.
B) Team - are there competing priorities or relationship issues? If yes, re-prioritize, allocate and resolve people concerns so everyone returns their focus on the work.
C) Future - are there opportunities to improve processes and tools? The answer is usually yes, to some degree, and I seek out cross-functional ideas and support to implement changes to scale our business.
3. You recently made a big move… Other than REW, what encouraged you to move from Toronto to the West Coast?
I fell in love with BC when I travelled to Victoria and Vancouver for the Canadian Dragon Boat Championships in 2012. After paddling in Victoria, driving up to Whistler and walking the downtown streets of Vancouver, I was sold on the west coast. I just needed to plan for the eventual move.
A year later, I met my now common-law husband who have family on the main land and on Vancouver Island and I influenced him to consider our big move from Mississauga, Ontario. His parents helped us learn about Vancouver Island and we both quickly agreed on Nanaimo around Fall of 2016. At the start of 2017, I suggested to him, a typical business approach to achieving goals (I dislike talk and no action), to write them down and to assign target end dates.
The list of goals included both of us seeking BC employment by spring 2017, selling our Ontario home by summer 2017, securing new living space by late summer 2017, and officially enjoying the "West Coast Best Coast" by Fall 2017. We posted these goals on our fridge and talked about them frequently (kind of like a daily project scrum, come to think of it!)
We were fortunate to both gain strong employment leads on a family visit in late Jan. 2017. Within a week of our visit, we both received employment offers, on the same day! My husband, Gavin, agreed to join Island Optimal as a chiropractor and I accepted this great opportunity with Real Estate Webmasters.
4. What's the best part of Nanaimo so far?
The people of Nanaimo and its communities have been the best part of our journey. On my first week with REW, I was still accustomed to big city life and easily walking or taking public transit and naively thought either options were good to get to the Fido store at Woodgrove mall from the office.
I was quickly dissuaded from walking and advised that the bus would take hours and I would arrive before it's closing time at 6pm. Andy from the team kindly offered to drive me the following day, although I was still hesitant to trouble him. Impatiently, I walked back to the Coast Bastion Hotel and sought second opinions from the concierge. He also validated that walking and taking the bus were not great options.
I'm sure he saw my skepticism and determination, so he asked if I know how to, and how well do I, drive. I quickly blurted out "I'm amazing! At driving that is…" He then offered me his car to drive myself to Woodgrove mall. I was so thankful for the unexpected kindness.
I arrived at Woodgrove mall with 5 minutes to spare and walked out with a new Nanaimo phone line. I wanted to yell at the top of my lungs and tell everyone how amazing this gentleman is! I have several more stories of generosity from people I have met in Nanaimo, who have all made this transition a positively memorable one.
5. What type of work does your team do?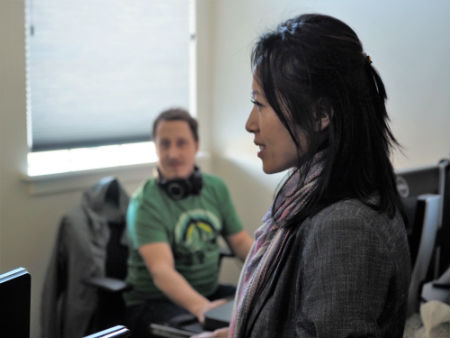 There is so much talent in this group of technology specialists.
As a combined team, we execute and deliver on the innovative product direction from our CEO, Morgan Carey. Product ideas vary in size and complexity across our suite of web technologies including consumer facing custom branded sites, backend content management, customer relationship management systems, and apps on Android and iOS devices.
They always start with amazing designs that take into account leading UX practices and focus on driving our clients' customers to visit and re-visit their sites (take a look at any of REW's website designs and it's easy to see what I mean.) While design is refined, development takes place to build new and/or enhance functionalities that are important to Realtors, brokers and real estate enterprise clients to manage their prospects and customers through the home buying and selling process.
This team leverages feedback gathered from staff and clients as part of the product development life cycle before public launches. Morgan Carey, our CEO works closely with us to guide the vision and ensure quality releases that surpass our clients' expectations.
6. What was your first job and what career changes led you to REW?
I was super keen to start working at a young age. It took some convincing, as my parents were concerned about it affecting school work, but they finally allowed me to take a flyer delivery job at 14 years old. Every Saturday morning, my younger sister volunteered to help and we both created packages of the various leaflets to deliver to 4 apartment buildings. My dad stacked them into the trunk and drove me to drop them off at each apartment lobby.
I know it sounds easy and I had help but I saw it as a start into the working world that I oddly craved. Once I started working, I made the next goal to gain a driver's licence and purchase a car. Through the rest of my teenage years, I took on part time jobs at grocery stores and fast-food restaurants handing over most of my earnings to my dad until I saved about $6K for a pre-owned Suzuki Sidekick. This remains my most rewarding purchase.
After studying computer science and information management, I started as a technical support rep at The Loyalty Group that operates the AIRMILES program. There, I grew into a manager role learning about business analysis, testing, training and product launch. I moved to the Quality Assurance (QA) department before leaving.
QA led me to Project Management with Indigo Books and then Product Launch, and then Process Transformations at mid-sized to large-sized organizations including Rogers Communications and Nasdaq. Although there are great learning opportunities in established organizations, I've enjoyed the opportunities I had at growing organizations where you have the opportunity to positively impact so many things.
7. What is your favourite part of the day?
This may cause a 'gag' reaction from some readers but I seriously wake up each morning excited to get into the office. My husband would often comment, "What's the smile on your face? You want to get into work don't you?" I guess it's the cliché of, if you enjoy what you do, it's not really work. Now, in Nanaimo, I also love the end of my days where I'm steps from spectacular views of mountains, lakes and oceans.
8. What are your most overused words?
"Right?" I am currently trying to lose ending most of my sentences and thoughts with 'right….?' For example, "I really enjoyed reading that book, right?"
9. What are your 3 favourite things about working at REW?
The teams - likeable, smart with many role models at all levels of the organization. I could already see so many friends I will gain.
The product & vision – you could have a view into the gorgeous sites built by REW and learn about our back end platform to enable the top realtors in North America. Come ask me about our BHAG (big hairy audacious goal)!
The autonomy to see an opportunity, come up with a plan, and to execute on the plan without an insane amount of administrative approvals required
10. What's your sign?
I enjoy learning about astrology so I'll use a snippet from my birth chart to share how it influences me.
My sun sign is in Libra meaning at the core, I dislike conflict and negativity (in others; I some times don't see it in myself.) I support the underdogs and I fight for justice.
My mercury sign is also in Libra which suggests my general communication style is similar to my core by doing so by including as many people as possible and recognizing everyone's contribution fairly
My rising sign is in Gemini and I prefer to be known as always learning / improving and highly communicative. I may be seen as bubbly, changeable, quirky in some situations and in others, as impatient, intellectual and lacking in warmth.
My Venus sign is in Virgo so at work and in love, I'm critical and demand the best. I'm practical and hate laziness.
My Moon sign is in Sagittarius which shows in my love for freedom, higher concepts and anything foreign.
My Mars sign is in Cancer and so I move towards my goals in a side step crab-like way and I could be seen as passive but I'm always strategizing the next move.
11. What are the qualities of the best leaders you have encountered?
Some of these qualities are ones that I continue to develop to improve my leadership skills and I have admired them in peers, direct reports and managers in my personal and professional life.
Make the tough decisions / be the bad cop when needed
Shares the 'why' of their proposals
Admit they don't know the answer
Admit they made an error in judgement
Encourages learning and individual/team problem solving
Thanks, Vy!
Tags