We're delighted to announce the official release of our newest product, REW Leads!
Lead management is time-consuming and tedious, draining valuable time and resources from every real estate business. We knew there had to be a more efficient way to build these client relationships, so we got to work on the REW Leads app.
REW Leads is a universal app for iPhone® and iPad®, designed to provide a powerful yet effortless lead management experience. Our goal was to make lead follow up as fast and easy as possible, without compromising control.
Instant Lead Routing & Push Notifications
REW Leads offers two phenomenal features that help achieve our "speed to lead" goal:
Intelligent lead routing
Instant push notifications
Our intelligent lead routing system allows teams to route new leads to the best possible agent, immediately. Lead routing rules can be set by location, property type and price, and rules can be applied to entire groups or single agents. Once set up, intelligent lead routing gives you full control over where leads go without requiring any of your valuable time.
Combine lead routing with push notifications, which instantly alert agents of newly received leads, and your team can follow up with a lead only seconds after he or she registers on the site. Thanks to REW Leads, you're always able to connect with leads when they're hottest.
Full CRM Integration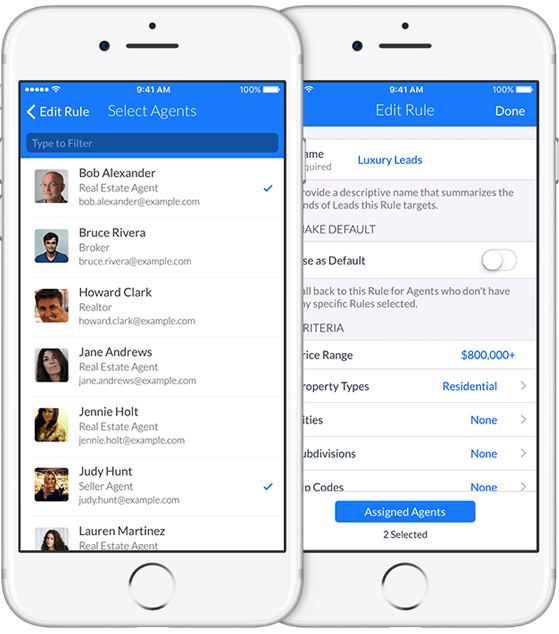 The REW Leads app communicates with REW's website CRM systems, ensuring leads and history information is automatically up to date. At a desk or on the move, you can seamlessly switch between a REW website and the app, staying on top of your leads anywhere, anytime.
Split-Screen Multitasking
Our universal design also allows you to enjoy iPad's convenient split-screen features. Open any other split-screen compatible app at the same time as REW Leads to multi-task and cross-reference with ease. Work a hot lead while staying up to date on email, social media, and more.
Get The REW Leads App

If you want to improve efficiency and manage leads better than ever before, it's time to get REW Leads. We're offering the app to all our $499+ SaaS users, with an unlimited number of user licenses included at no charge for the rest of 2017. REW Leads is compatible with all our modern backend systems, and is officially supported on 4.6, 4.7, and the upcoming REW CRM.
REW Leads has been developed and released for iPhone, iPad, and iPod touch®. The Android version of REW Leads is currently in development and will be released later this year.
In 2018, REW Leads will include 10 users for our $499 SaaS customers and 25 users for our $999 SaaS customers. If you need more than 25 users, we'll be happy to provide custom pricing.
---
Apple, the Apple logo, iPhone, iPad, and iPod touch are trademarks of Apple Inc., registered in the U.S. and other countries. App Store is a service mark of Apple Inc., registered in the U.S. and other countries.