Posted by REW Marketing on
---
This article is part of a series about real estate PPC. We highly encourage you to read the entire guide.
Recommended PPC Settings
---
If you're running your own PPC campaign, or are interested in starting your own, then make sure you take 5 minutes and read this article—it's for you!
At REW, we employ a variety of advanced strategies and tactics, and often delve into advanced settings that can help take campaigns to the next level.
But in order to experience PPC success, a strong foundation has to be built.
Here are my top 5 most important PPC settings that you need to be taking advantage of right now.
1. Set a device preference
Setting a device preference is crucial if you do not have a responsive site.
The default set in your campaign will be for All devices, but if your site is not responsive, then you should adjust your mobile bids to ensure you're not bidding on traffic that is unlikely to convert.
For non-responsive sites, I recommend a bid adjustment of -100%. This will allow you to save your money for visitors on computers who are more likely to register and become a lead.
2. Geo-target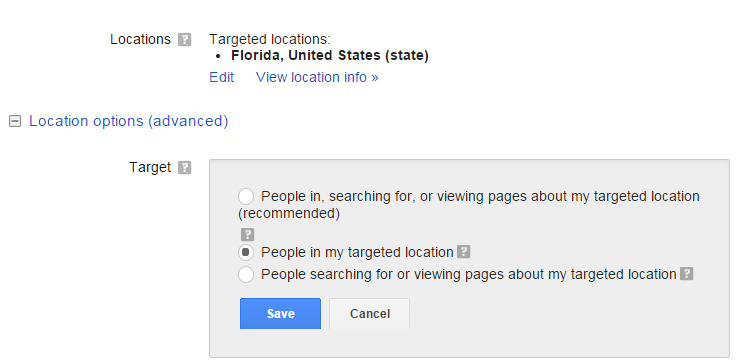 In order to ensure that your campaign is showing ads to your target audience, two location settings must be set. First you must select a targeted location. For a starter's campaign, I suggest choosing your state or province. Second, click "Location options (advanced)" to change the Target setting from the default ("People in, searching for, or viewing pages about my targeted location") to the "People in my targeted location" option. Now your ads will only be shown to searchers who are physically in your chosen state or province.
3. Take advantage of advanced bid strategies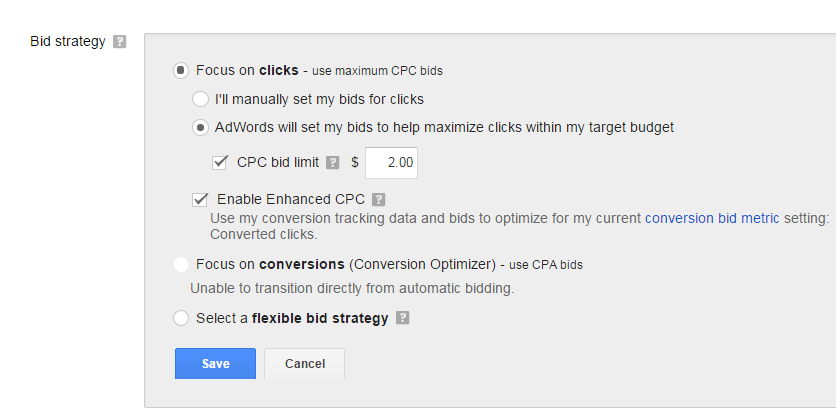 There are a variety of different bid strategies you can apply to your campaign, but the simplest option that provides the most value at the start of the campaign is "Focus On Clicks", "AdWords will set my bids to help maximize clicks within my target budget". I find this setting eliminates the guess work in what the bids should be set at for best results, while the CPC bid limit (#4) ensures that you won't max out your budget too soon.
Once your campaign has generated 15 conversions (registrations on the site) in 30 days, you'll be eligible to take advantage of the "Enable Enhanced CPC" option, which uses historical conversion data to optimize how ads are shown in the campaign.
Note: The "Enable Enhanced CPC" option is only available if conversion tracking is set up on your website. For instructions on how to enable conversion tracking on your site, please contact Support at 1-877-753-9893 or email support@realestatewebmasters.com.
4. Set a bid limit
All campaigns are set up with a maximum daily budget, but just because there is a daily budget doesn't mean you've controlled the daily spending on the keyword level. Make sure you set a CPC bid limit for your campaign—it will help you avoid maxing out your budget after just a few expensive clicks. I recommend $2 as a good starting max bid limit; most markets seem to have an average cost between $1 and $2 for the top three ad positions, and you can adjust the bid limit to be higher or lower once you have an idea of what costs get you what ad positions.
5. Force registration, immediately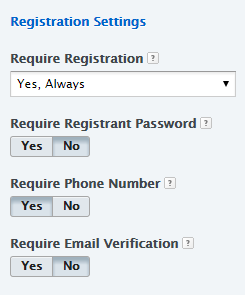 If you do nothing else to your campaign, make sure you change your registration settings to Require Registration: Yes, Always. Select No to Password, Yes to Phone Number, and No to Email Verification. I could write so much more on this subject, but instead I will refer you to a PPC study that our friend Ryan MacDonald conducted earlier this year. The proof is in the stats—immediate forced registration will always get you the most leads, the highest conversions, and the lowest costs.
By taking advantage of these five simple settings in AdWords and on your site, you will be optimizing your campaign to drive targeted traffic to your site at affordable costs. The end game here is more leads for more closed deals, and I hope you find that these settings help you do just that.