It's my pleasure to announce that REW's third winter release is complete and ready to be deployed! This mobile-focused update includes the formal unveiling of REW Leads for Android, a brand new feature for REW Leads for iOS, and new bug fixes for REW CRM. Let's break down each of these new benefits in a little more detail...
REW Leads for Android is released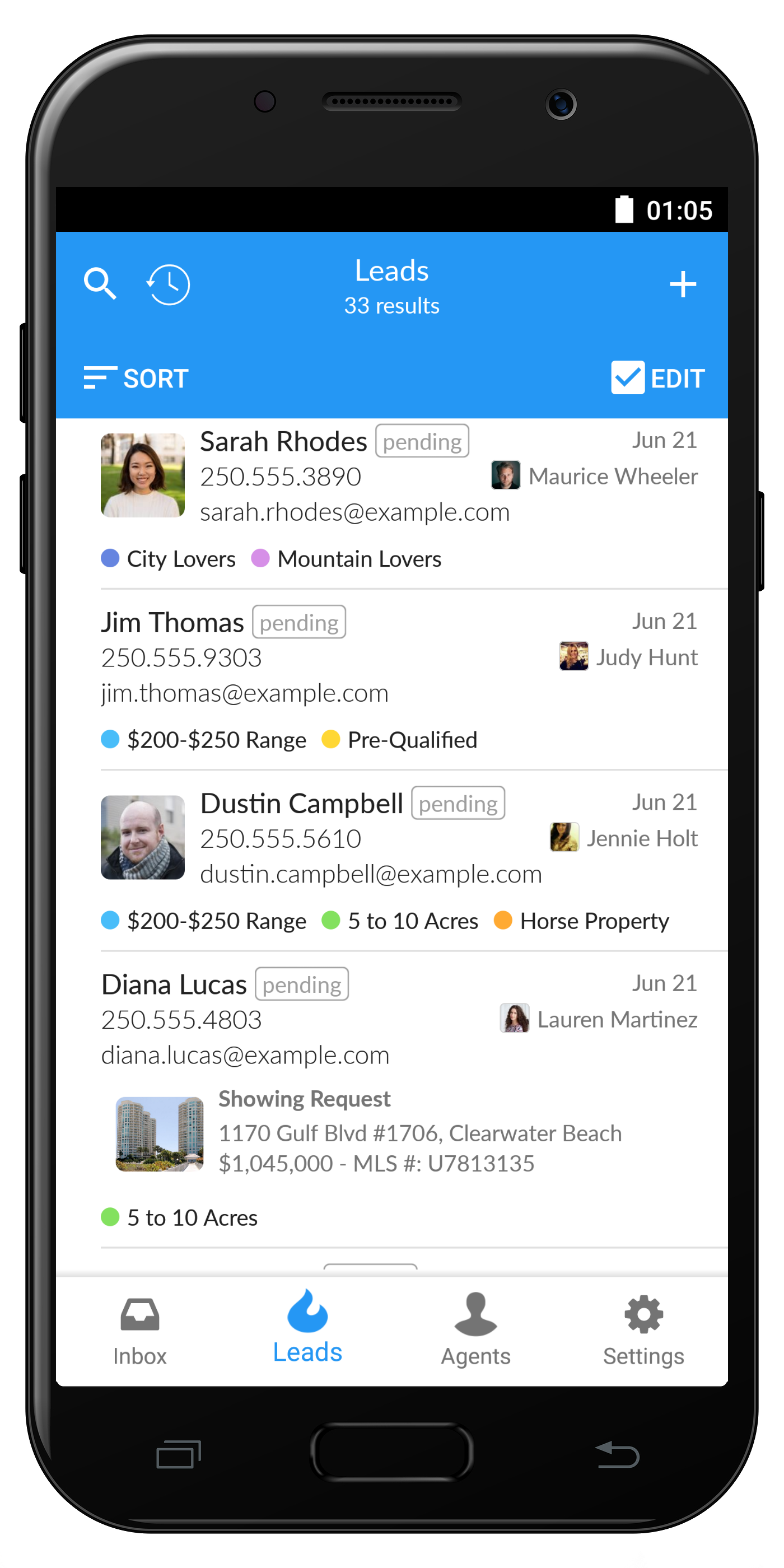 Android users rejoice! We took REW Leads for Android out of Beta this morning and have officially released it into the wild via the Google Play Store. The convenient REW Leads mobile app is a companion to REW CRM (and 4.6+) that allows agents to work leads while on the go, using their smartphone or tablet.
REW Leads is one of the fastest and most intuitive ways to manage leads, and it has quickly become a client favorite. The Android version of REW Leads includes many of the same features our clients love from the iOS app including:
Push notifications
Rule-based lead routing
Streamlined inbox
Easy lead management
We're close to feature parity between our iOS and Android apps and will be adding Reminders and the new Shark Tank feature (see below) in an upcoming release. For now, we think you'll love how easy it is to stay on top of your leads using REW Leads Android and recommend giving it a try.
Try REW Leads for Android now!

Shark Tank added to REW Leads for iOS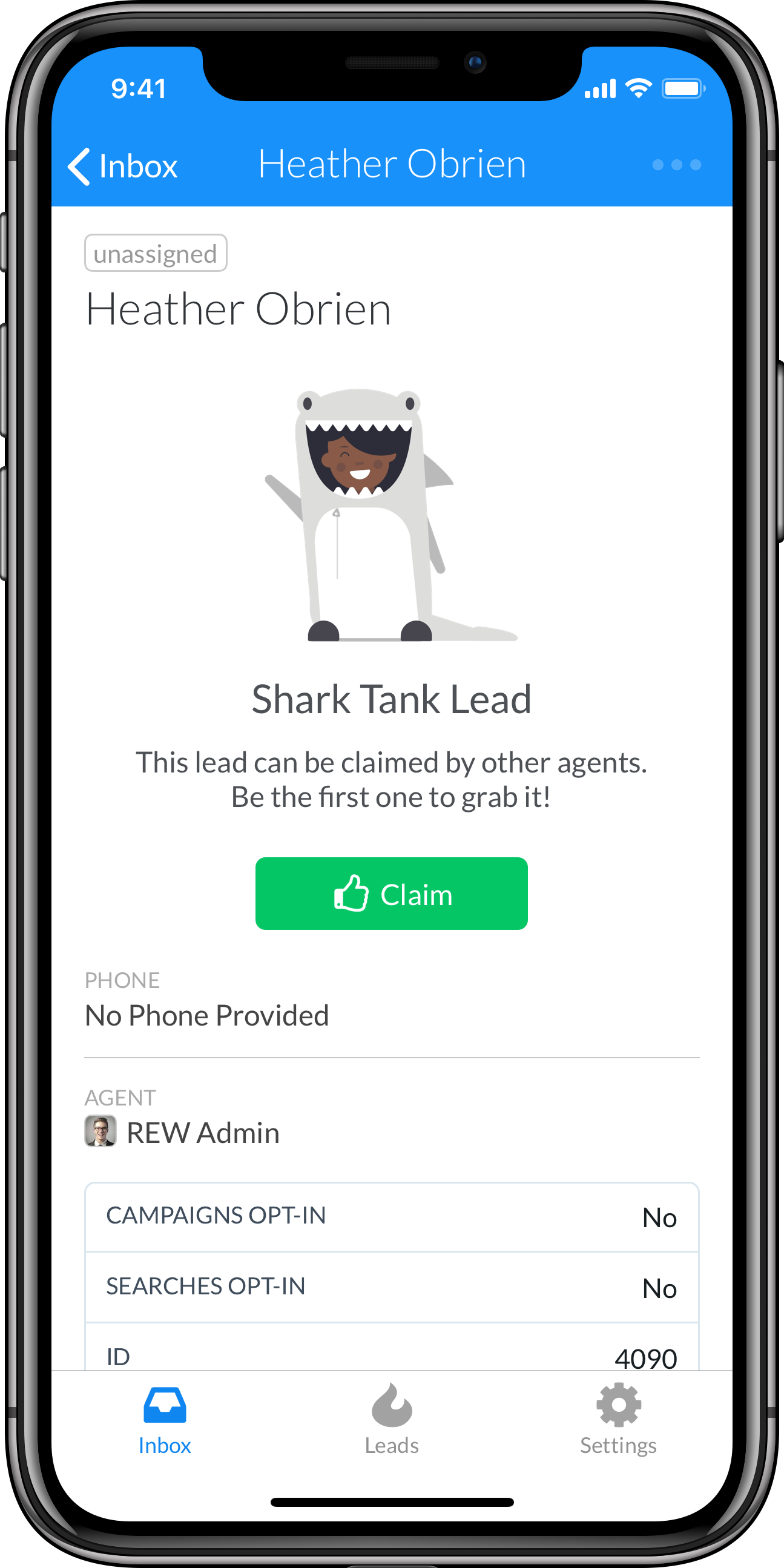 Shark Tank is our favorite lead routing option yet, as it allows competitive teams to reward agents who are on the ball. Shark Tank enables agents to:
View leads available in the Shark Tank
Claim leads by swiping left
Receive push notifications when new leads are in the Shark Tank
Discover new leads faster than via email
Brokers and website administrators will be able to choose whether Shark Tank is enabled and also determine which of their agents have access to the tank. They'll also be able to throw unassigned leads straight into the tank.
If your team isn't using Shark Tank, I recommend you give it a try. Shark Tank rewards ambitious agents, reduces complacency, and enables leaders to assign leads with little to no administrative work.

Ongoing REW CRM bug fixes
The final component of this release is based on our ongoing commitment to make REW CRM the best it can be. We continue to prioritize and then kill bugs after they are discovered, and this release is no exception. Our team has diligently destroyed 50 known design, performance, and general functionality bugs, including:
Enhanced listings videos will play on mobile devices
Cell phone validation no longer generates an error warning
Photo gallery is fixed to its location
Many of these bugs were reported by our clients. Thank you for sharing your experiences with us and allowing our teams to make REW CRM even better as a result.
Clients with REW CRM who received the previous winter updates will automatically receive these improvements. Our Support team will begin patching sites with REW CRM today and it's estimated all eligible sites will be updated by April 27, 2018.
---
Are you looking for innovative real estate technology that will help you stand out from the crowd? Get in touch with our expert consultants to find out how we'll elevate your business!