Posted by REW Marketing on Wednesday, April 18th, 2018 at 6:15am.
What are sitelinks?
Sitelinks are the smaller links that sometimes display below a site's primary link in the search results. Sitelinks are most likely to appear when someone searches for a specific company name or domain, offering quick links to the pages of the site Google thinks a user is most likely to be interested in.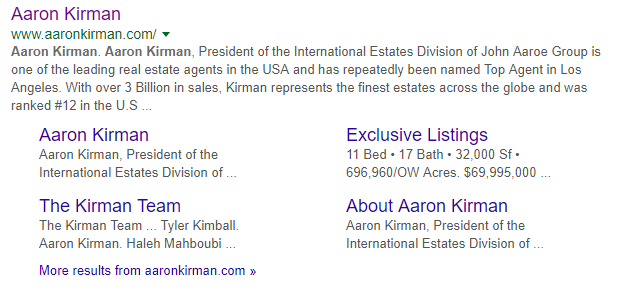 What is the benefit of sitelinks?
The biggest benefit of sitelinks is the amount of visual real estate they take up on the search engine results page (SERP). We've seen anywhere from 4 to 10 sitelinks, which represents a large portion of the overall results page. Studies have shown that when a user is presented with sitelinks, their odds of clicking through to the site increase.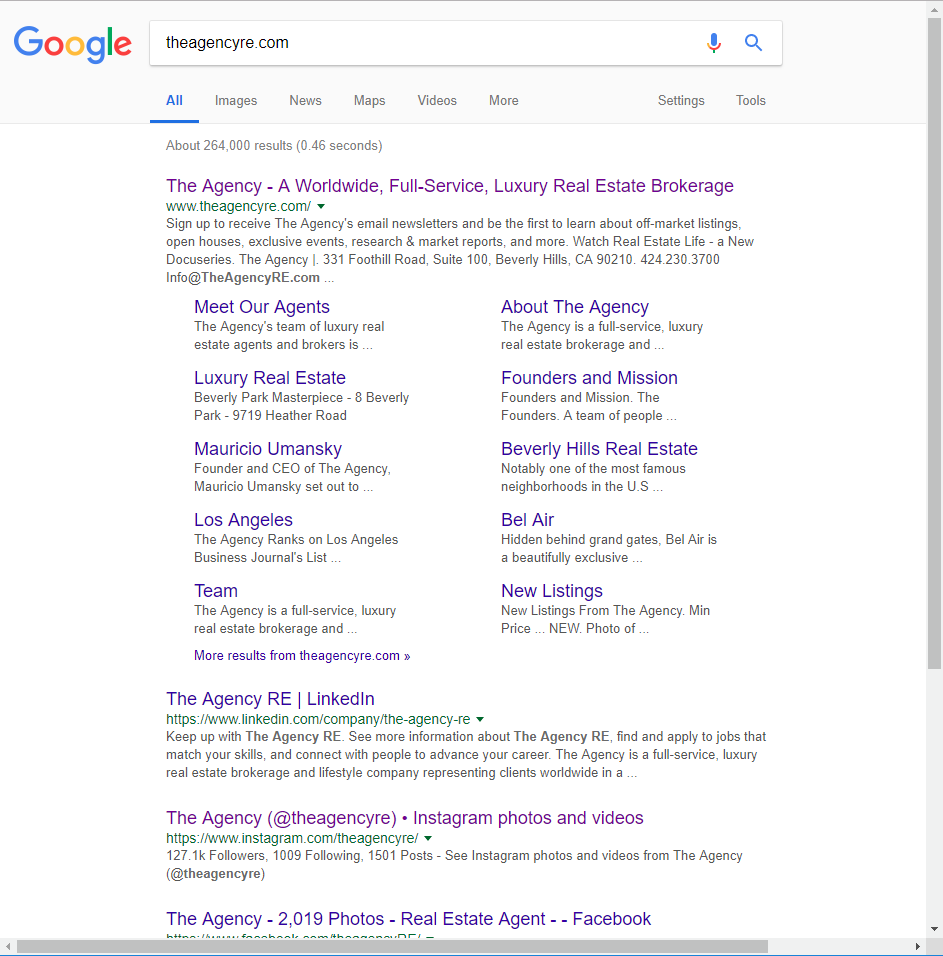 How do I get sitelinks?
Sitelinks typically require an XML sitemap, which all REW websites generate automatically. While it isn't always necessary to submit your sitemap to Google Search Console, this is a good way to ensure Google sees it.
In addition, there are a few other things you can do to help get those sitelinks:
Rank #1 for your company name. Only the first search result will receive sitelinks.
Have a unique domain. Google needs to be able to quickly distinguish which company to feature and having a name unique to your brand helps with that. This is one example where "city + real estate" is actually an SEO disadvantage.
Clear navigation structure. A simple, straightforward navigation helps Google understand your site and trust its content.
Improve your brand recognition. If you have done all of the above and still don't have sitelinks, you may need to expand your general recognition within your community.
Refine your page titles and anchor text. Google uses titles and anchors to determine what your content is about.
How do I choose my sitelinks?
This is where things get tricky! Google automatically displays sitelinks and there's no clear control for determining what links display. Unfortunately, you can't choose which links display or how they look when they do. In the past, website owners were able to remove sitelinks they didn't want to display through Search Console, but Google has since rescinded this control.
That said, Google is most likely to display the content it thinks users are looking for. Beyond general company info and contact pages, sitelinks are often showcasing the most popular content. If you want a specific page to show up in your sitelinks, demonstrate its importance through your navigation, linking, and sharing choices.
"We only show sitelinks for results when we think they'll be useful to the user. If the structure of your site doesn't allow our algorithms to find good sitelinks, or we don't think that the sitelinks for your site are relevant for the user's query, we won't show them." - Google
How important are sitelinks in my strategy?
Sitelinks tend to appear when a lot of other best practices are followed. Rather than focusing on specific sitelinks, we recommend following SEO best practices and making your site the best it can possibly be. If you have a clear navigation, great content, and solid brand recognition, chances are good that you'll automatically receive sitelinks.
---
Have questions about sitelinks? Ask them in the comments below!