Keller Williams Command Announcement
This past weekend, after much fanfare and 3 years of what seemed like a never ending circle of promises and delays, technology startup Keller Williams finally announced that they are launching their much hyped platform "KW Command" ...soon?
The actual date the public will see anything from Keller Williams is still unknown, but they're close(?).
About Keller Williams: Keller Williams is a relatively new entry into the real estate technology space having announced their intentions to become a spin off of the wildly successful "Keller Williams Real Estate" which (at the time) had been the fastest growing real estate company by agent count in history.

Prior to the bold announcement from their founder, Gary Keller, that "we are no longer a real estate company, we are a tech company" the (previously) real estate company had a long history of failed technology partnerships. From their early attempts with Wolfnet and MarketLeader, to their more recent debacles with companies like Placester, Keller Williams Real Estate has proven again and again that they cannot execute technology initiatives or drive technology adoption by their massive customer base. This is not commentary on the aforementioned vendors, but rather on Keller's inability to execute.
Keller Williams was always great at recruiting and training new agents (it was their bread and butter) so why move away from what brought them so much success?
Many would argue that the writing was on the wall for Keller Williams Real Estate and their antiquated model of bricks and mortar offices, high splits/fees, and a once-novel profit share model which has more recently been eclipsed by companies like EXP Realty.
Becoming a tech company...
I mean why not right? Truly this is a baffling move that still has the rest of the real estate technology world (and real estate world) scratching their heads.
How are they going to do it?
Just like Compass tried to spend their way into the real estate world (drawing criticism from many), the CEO of Keller Williams, Gary Keller, has promised a BILLION dollar technology fund in order to spend their way into technology success.
What we learned from the Compass example is that you can have a lot of money and a lot of very smart people, but it doesn't mean you are guaranteed victory. In fact, it usually means that those with this kind of overconfidence fall (and fail) the hardest in the end.
When it comes to technology and real estate, Compass and Keller Williams are attacking the same problem from opposite ends of the spectrum, but they still have one thing in common, a founder/CEO with an excess of hubris.
As for Gary Keller, the self-appointed CEO of this new technology start up "Keller Williams", he's just getting started!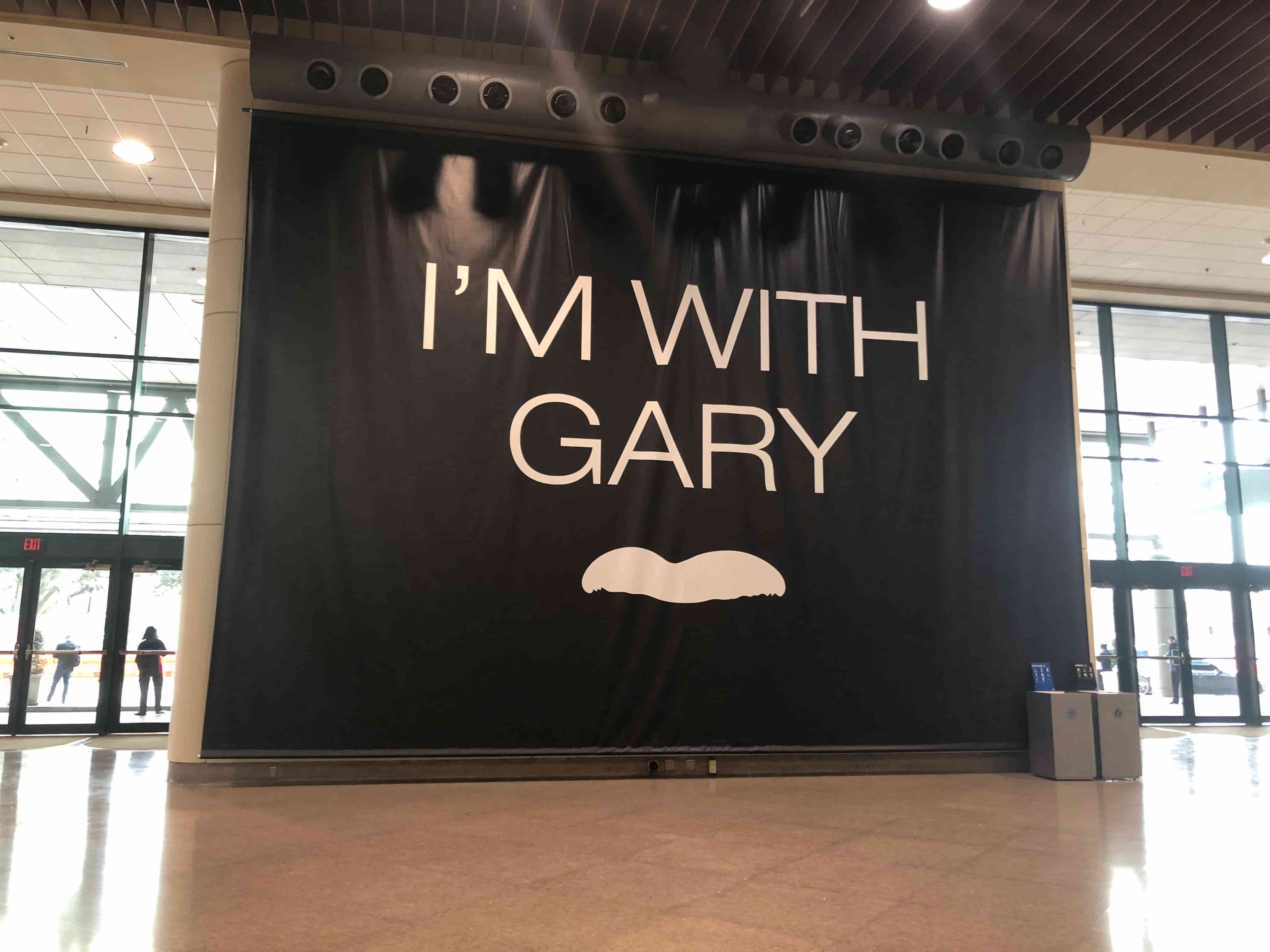 Image of massive "I'm With Gary" slogan taken at KW Reunion
This past weekend, he has compared his new technology offering to a combination of Netflix and Amazon, "built on top of an AI platform", declaring Keller Williams Technology has won the arms race and that all other technology providers and brokerage companies are in fact "playing for second place".
These are bold words from from a brand new technology company (basically a start up) which in spite of their leaders announcement, has never actually launched a platform. Words from a CEO who does not know the difference between basic machine learning and AI.
This is the same Gary Keller who recently attacked his competition in the recent video where he compared EXP Realty to Donkey Kong while admitting he had no regard for an NDA that he or his company had signed.
But why are technology companies so upset?
Having promised an "end-to-end" technology solution "for free" to all Keller Williams agents and brokers, they are now a competitor of all other technology companies in the space. Keller has stated he believes KW agents spend a billion dollars per year with these technology vendors, and it is his goal to eliminate this revenue and offer what he calls a superior solution, for free.
And what does he do on on the main stage as he announces his "platform"? He calls out every technology vendor and real estate company, stating that we're "second place" and that we will "never catch him".
Gary, you announced your platform YESTERDAY! And it has not even launched yet (nor is it even finished).
You haven't won any races.