If there's one universal truth about Google, it's that their search engine and web tools are constantly evolving. Yet, until recently, one tool had remained the same for far too long. It's been a delightful change to see that Google has started to roll out big changes to its Search Console (formerly Webmaster Tools) over the past few months, and it sounds like what we've seen so far is only just the beginning.
Old Search Console:
New Search Console: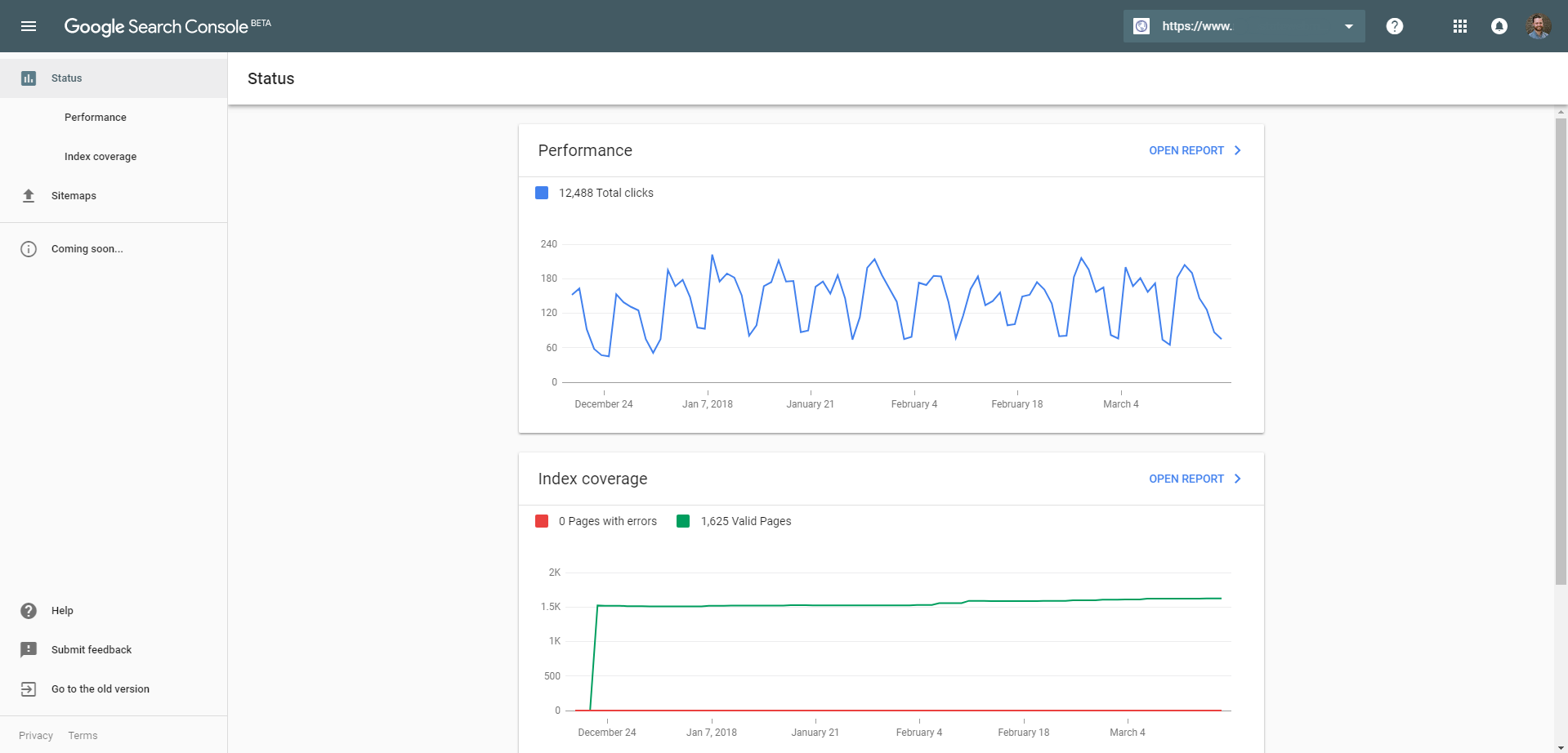 In addition to a sleek new look, Search Console's new Beta version shares info differently than in the past and has also amped up the notifications. Let's review some of the changes we've seen to Search Console and talk about what they might mean for your REW site.
Increase in 404 alerts & other notifications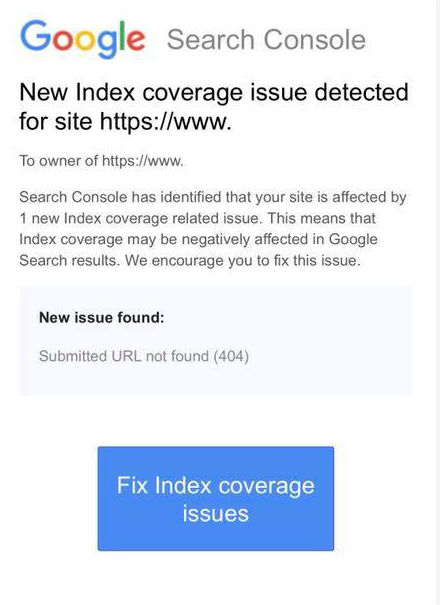 We've noticed that the alerts have become more sensitive than in the past and Google now sends notifications with increased frequency. This is great for catching new errors quickly, but Google has also stepped into alarmist territory, causing needless stress for some of our clients.
The most likely "issue" you'll encounter on a REW site are "New Index coverage issue detected" and "Submitted URL not found (404)" errors, both of which are typically caused by the 404s from expired listings that are still temporarily in your sitemap.
"404 errors are bad for SEO" is a pervasive myth, especially when it comes to real estate.
Sitemaps on REW sites refresh approximately every 24 hours. Google's improved alert system can sometimes catch the pages before the refresh, which triggers the errors.
However, 404s are a completely natural and even expected on a real estate website. Why?
Google knows that pages come and go on the internet all the time. A page being taken down on a website should not impact Google's view of that site unless that page being taken down causes a poor user experience.
In other words, if an extremely important page on your website is 404ing, like your home page our company about page, Google may deindex it from its search results—and that's a big problem.
But the types of errors typically reported from Search Console (listing pages being taken down) won't negatively impact your site.
If you do encounter this warning and it's for an expired listing (or any other page removed within the past day), you can ignore it.
You may also receive other notifications for your REW site as Google increases its communication protocols. In our experience, most of these notifications are harmless or can be easily rectified with some simple corrective actions. Of course, you should still review each error, issue, and warning individually and then reach out to a trusted SEO expert if you have any questions.
Restructured reports
Both the old and new Search Console organizes sets of data into "reports". While these reports are marked by each subsection of the old console, Google has organized the new console into screens that look more like the reports you'd expect to see in Analytics and similar tools.
Performance tab
The new Performance tab takes the information that used to be found in the "Search Analytics" section and just pretties it up a bit. All the same data is there but is now displayed in a more modern and visually appealing manner. The one exception is the "rich results", which have additional structured markup and appear to be coming soon via a new Search Gallery report.
Index coverage tab
The Index coverage tab is possibly the most exciting change to Search Console, as it finally adds transparency to the indexing. In the old Search Console, indexing told you how many pages were indexed and very little more. The new console breaks down your indexed pages and lets you know how many pages are indexed, along with any errors or warnings, and tells you where pages are intentionally excluded from the index. But the real value in the updated Index coverage tab is the higher level of detail provided when there is an indexing issue, as Google explains the problem and suggests a solution.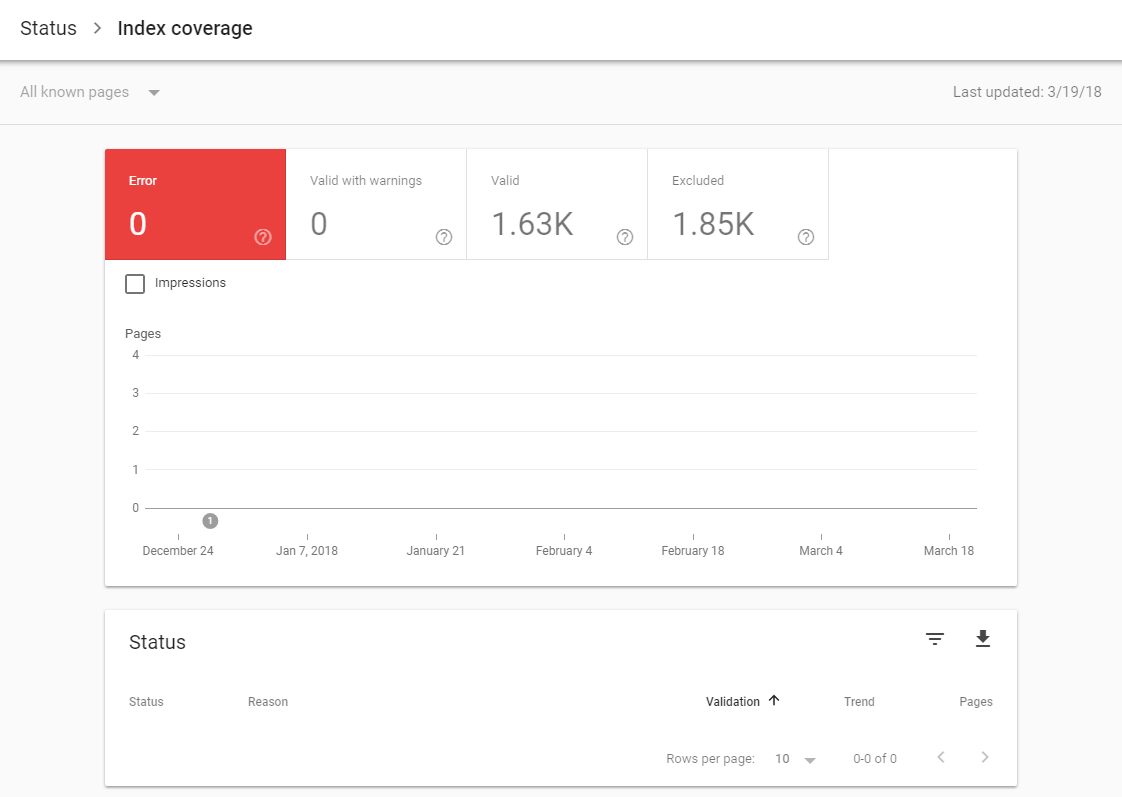 What's missing right now?
Search Console is still in a transition phase, which means a lot of the data on the old console is still being carried over. For now, you can still access both versions through a link in the top left and should continue to do so until the transition is complete.
To keep full tabs on the site, I recommend visiting the old Search Console for:
Links to Your Site
Internal Links
Manual Actions
Mobile Usability
You'll also need to use the old Search Console if you want to use the Remove URLs tool or to submit a Change of Address request. However, it's likely only a matter of time before all of these features are on the new Search Console, which the SEO community estimating a completion towards the end of 2018.
All in all, I'm seeing some really great enhancements to Search Console and think the added level of transparency will help REW clients better understand what's happening on their sites. This new Console has been long awaited by many SEO pros, giving us an additional set of tools to use in our neverending quest to create the best websites on the world wide web.
***
Have questions about your Search Console results? Ask in the comments below or learn more about REW's SEO services!