Posted by REW Marketing on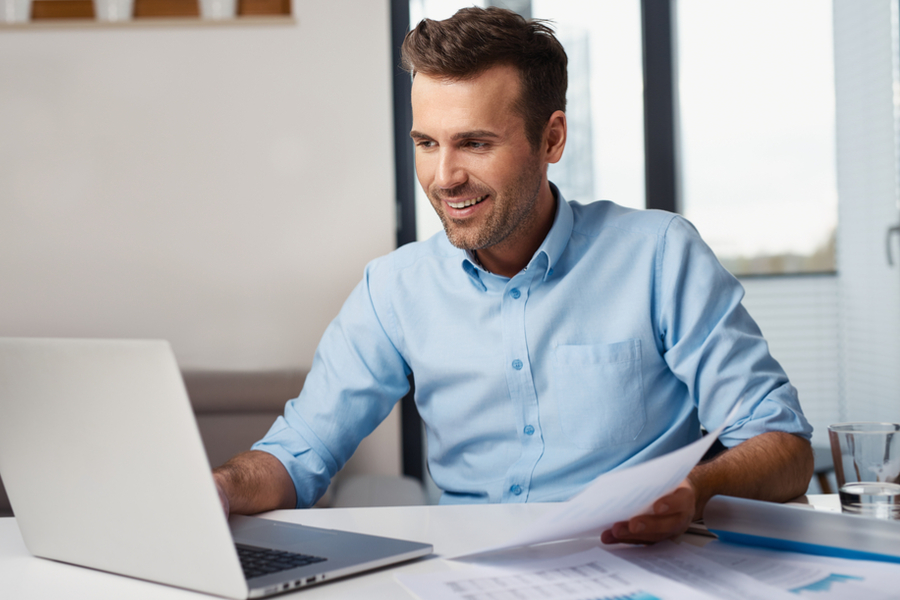 We've worked directly with thousands of Realtors over the past decade, and our business is built alongside top-producing real estate agents who see a positive ROI and improved GCI from our real estate technology.
As a result, we've become experts in lead generation and conversion, and we know what it takes to find new buyers and sellers online, and then convert them into actual clients.
The details of each successful strategy vary a bit, but not as much as you may think. In fact, almost every powerful lead gen and conversion strategy starts with the same two tech tools: a website and a CRM.
In today's post, we're going to talk a bit about these two tools, and why every Realtor needs them if they want to improve their GCI. Without further ado, let's get started!
1. A website with IDX integration
The foundation of every good tech strategy is a phenomenal real estate website. A good website draws new clients to your business and is absolutely required for the best lead generation and conversion strategies to work.
First, you'll want to drive visitors to your site using paid advertising, such as Google AdWords or Facebook Advertising, or through organic content creation. You can also promote your website through other forms of advertising, but typically online visitors come from online sources.
Once these online visitors are on your site, you'll need to capture their info. Our clients do this through forced registration on real estate listings, which require users to submit their name and phone number into a form before they can view listings, receive a property valuation, and so forth. This ability to capture contact info is an absolute "must have" for your site.
Some agents don't like forcing registration but our experience has been that most genuinely interested buyers and sellers have no problem trading their contact info for accurate, reliable real estate info. (And those who aren't willing to share their name and number typically don't become your clients anyway.)
To help you get started, here are a few baseline components you'll need in your real estate website:
IDX integration
Advanced search filters
Automated listing alerts
Forced registration
Ability to add unique content
Property valuation tool
2. A focused real estate CRM
Once you've captured a visitor's contact information, they become a raw lead. And here's a pretty cool stat about raw leads: 52% of them are going to buy a house within the next few months. If you want to be the one who sells it to them, you need a proper conversion strategy, which starts with a CRM.
CRM is an abbreviated form of Customer Relationship Management, which is essentially a technology platform that lets you keep track of your leads and clients. CRMs are incredibly powerful tools because they keep you organized and help you stay on track of your follow-up activities.
A solid real estate conversion strategy has four components:
Phone all leads as soon as they register on the site
Email the lead with a summary of the phone call ("I tried to reach you", "Here are some listings that fit the criteria we discussed," etc.)
Add the lead to automated email listing alerts, relevant to their search criteria
Nurture the relationship & keep in regular contact
A CRM enables you to do this quickly and efficiently, while also empowering you to record detailed notes for the future. You'll know exactly what actions you've already taken, as well as what still needs to be done, all the while developing historical information about each and every lead.
Given that relationships are often built over the course of several years, this history can provide crucial reminders that improve your capability to make meaningful connections. A Realtor who maximizes their CRM will utilize the business info that's automatically collected, like contact info and contact history, and also add in tidbits of useful personal info such as kids' names, home anniversaries, and even hobbies.
A CRM enables you to do all this by storing all your contact history, notes, and upcoming actions in one place. We're partial to CRMs that integrate directly with your website, because they're hyper efficient and give you much deeper insights into lead activity and engagement. Integrated CRMs will tell you exactly what pages and properties a person looked at, resulting in an extensive compilation that can help you determine who to work with, and be invaluable in winning clients over.
But if you haven't found the right real estate website with a built-in CRM, even a simple CRM is better than no CRM. Here are a few of the features you need to look for:
Group leads into categories (eg: buyer/seller, price point, timeframe, etc.)
Automated email campaigns
Action Plans that remind you to follow-up with specific leads
User history of previously viewed listings
Responsive design for use on any device
How the right technology improves your GCI
Now let's crunch some numbers so you can see how a website, CRM, and effective lead strategy is practically guaranteed to improve your GCI.
In both of the following scenarios, we're going to use examples based on the data from our in-house PPC campaigns. Note that lead volumes always vary by budget and location (hence the ranges below), while the conversion rate is impacted by your follow-up actions. But with those caveats aside, these numbers are entirely realistic for a real estate agent to achieve.
Let's say that 600 people registered on the site throughout the year, which is on the conservative side for average raw web leads from our PPC services:
| | |
| --- | --- |
| Conversion rate | 0.5% |
| Deals from 600 registrations | 3 |
| Revenue (average GCI of $10,000) | $30,000 |
| Lead cost (from PPC advertising) | $6,000 - $24,000 |
| Net positive ROI | $6,000 - $24,000 |
| | |
| --- | --- |
| Conversion rate | 1% |
| Deals from 600 registrations | 6 |
| Revenue (average GCI of $10,000) | $60,000 |
| Lead cost (from PPC advertising) | $6,000 - $24,000 |
| Net positive ROI | $26,000 - $54,000 |
Your technology heavily influences these results. First, the website determines how many people actually register on the site. To get those 600 leads from an advertising budget of $6,000 - $24,000, you need a solid website with the lead capture mechanisms we went over before.
Then, to get raw lead conversion rates at 1% and beyond, you need to follow up strategically and systematically. That's where your CRM comes in, keeping you on track and ensuring you're taking the actions necessary to effectively convert your raw leads.
At the end of the day, if you're happy with your GCI, then there's no need for change. But if you're looking for a way to bring new clients in the door, improve commissions and ultimately elevate your quality of life, you need an awesome website and a high-quality CRM.
Tags