A core principle of innovation is incremental improvement.
At Real Estate Webmasters (REW), we reorganized our Product Development team earlier this year to dedicate focus on transformative projects, new product features, and platform optimizations. We did this as a commitment for our clients to trust that while we build new capabilities, we also enhance existing ones.
This is Real Estate Webmasters' second product update of Spring 2019.
This release brings with it over 60 updates to Discover, Vision, and REW CRM. This includes IDX Social Connect branding updates, performance and functional upgrades, and several new features.
The new update rollout process will begin on May 23 for all eligible REW CRM clients. Clients will be notified via email when their site has been patched.
REW CRM
REW CRM is receiving a few upgrades that will help your workflow.
What's Next Badge - The What's Next task icon in the Leads screen now displays a notification badge with the number of tasks that are overdue or due soon.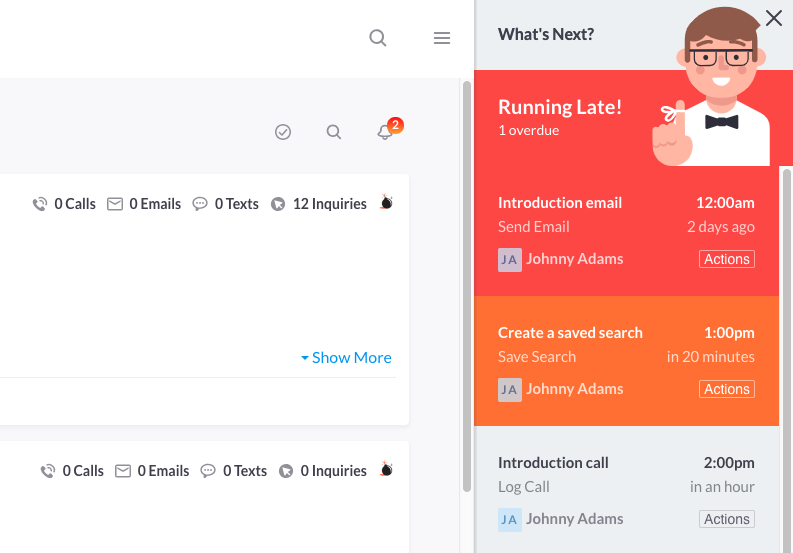 The What's Next badge shows there are two "overdue" or "due soon" tasks.
Improved Performance - We have added pagination to the Agents roster in REW CRM, which will greatly improve backend performance for teams and brokerages with large numbers of agents. This will improve performance for campaigns, categories, form letters, and templates.
Google PageSpeed Insights Testing - In our continued pursuit of optimization and web performance excellence, REW measures performance as part of our product launch readiness check. Our development incorporates Lighthouse's developer-specific monitoring tools.
In this latest release, we have added Google PageSpeed Insights to our benchmarks. We recognize that our clients rely on Google PageSpeed Insights and this added step is our commitment to ensure speed and functionality are integrated in our development efforts.
Results from PageSpeed Insights return real-time web experience data that is in close alignment with our clients' and their customers' experiences. From the results, we proactively baseline, identify, and remedy performance issues. The result is to continue delivering the high-calibre experience you have come to expect.
Discover and Vision
We're excited to bring these updates to both Discover and Vision.
Multi-Feed Enhanced Listings - The ability to create Enhanced Listings is a popular feature on Vision and Discover, allowing agents to add their own video, images, and text to existing or manually uploaded listings. In this update, we've added support for Enhanced Listings on sites with multiple listing feeds. Site visitors can now switch between feeds to see every Enhanced Listing on your site.
Facebook IDX Social Connect - In the first spring release, we updated the Facebook IDX Social Connect infrastructure in REW CRM to meet Facebook's new development guidelines.
In this release, we have updated the Facebook IDX Social Connect feature on both Vision and Discover to match Facebook's brand compliance requirements as of April 29th, 2019.
Facebook announced a new circular logo on April 30th. Some of our clients were contacted by Facebook to update to the new logo or risk losing access. We responded quickly and updated the Discover Facebook IDX Social Connect to include the new logo. Vision's Facebook IDX Social Connect logo is planned for updating next.
LinkedIn IDX Social Connect - We have updated the LinkedIn IDX Social Connect feature to meet LinkedIn's latest standards, allowing site visitors to continue to register for your site through LinkedIn.
Google Branding - With Google+ officially retired, we have updated branding for the Google IDX Connect on both Discover and Vision. We've replaced the Google+ icon with Google's "G" icon. This branding update also applies to the Google icon on the Lead Summary page.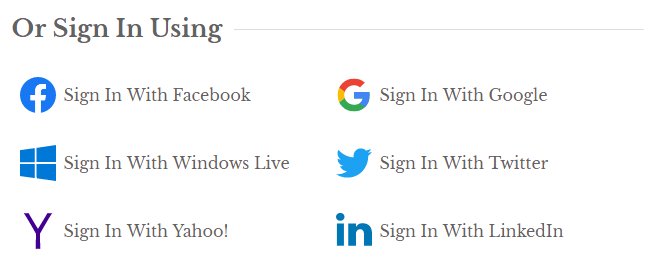 Here's what the full slate of IDX Social Connects look like on Discover
Discover
We're pleased to add several new features to Discover, as well as several helpful improvements and bug fixes.
New Features
Saved Searches - A "Save Search" button has been added to Discover IDX snippets, allowing site visitors to remember the property search criteria directly from their favorite community pages. The new feature also includes the ability to save polygon searches from IDX snippets.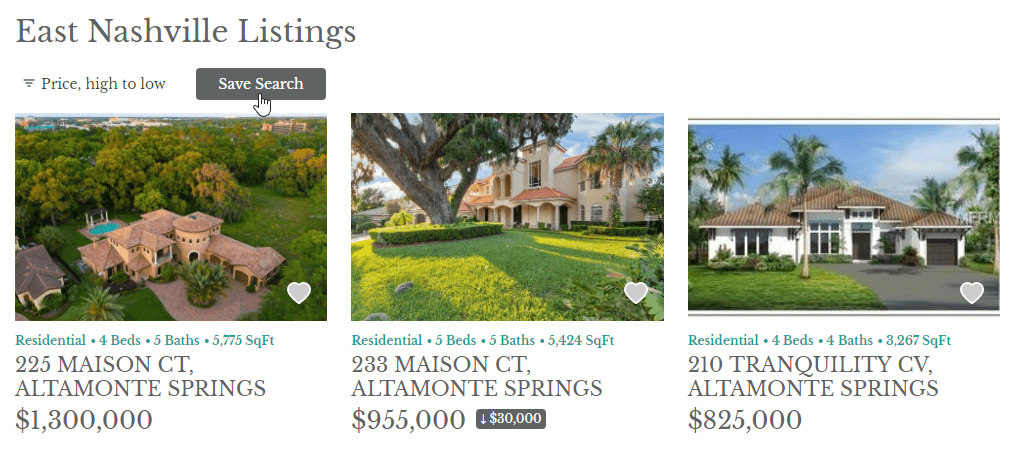 The Save Search button allows Discover site visitors to save their favorite searches directly from your IDX snippets.
IDX Require Registration Form - The message text on Discover's Require Registration form is now customizable through the website's backend.
What's Your Home Worth CTA - The "What's Your Home Worth" call to action has been added to more recent installations of Discover that had previously excluded the form.
Improvements & Fixes
Image Lazy Loading - We've improved page load times on Discover by lazy loading all images, meaning images below the fold won't be loaded until the site visitor scrolls down the page.
IDX Auto-Responder - The Discover auto-responder for IDX listing inquiries has been updated so your leads will receive the correct email response immediately.
Get Local - We have updated the Get Local add-on to order Schools and Amenities by distance.
Search Improvements - The "Days on Website" quick search functionality has been improved for feeds without a "Days on Market" field.
We've also improved the search form to allow for the visitor to use include multiple entries in the "Location" field, and improved the functionality of the "Sort By" dropdown menu.
Scalable Vector Graphics (SVG) Logos - We have improved the responsiveness of all SVG logos on smaller devices and window sizes.
Thanks for stopping by!
We appreciate your continued feedback on how to make REW products even better. Have a product suggestion? Send it to suggestions@realestatewebmasters.com and we'll be happy to review it.