Posted by REW Marketing on

It's time for another platform update, REW's third release of the Spring. This update brings with it some dramatic enhancements as well as another series of requested fixes to our web products. We've committed to ensuring your REW CRM, Vision design, and REW mobile apps keep getting better, and I'm excited to share that our product development team have bundled your most requested changes into this release.

Here are some of the biggest updates you'll see over the next few days:
Newly Designed Leads Manager
We've totally revamped how the REW CRM leads manager works by streamlining the interface so that it puts the most relevant information and actions at your fingertips. Though you can still dig deeper into the details of a particular lead if you desire, our goal was to make it easier for clients who make data-driven decisions to view, sort, and prioritize leads according to their needs.
The new leads manager features a cleaner look that displays contact information, your communication history, and lead search history, all on the same page. Leads can now be instantly sorted by score, value or the last time you interacted with them. Additionally, you can add quick notes for you and your team, log calls, send email, or text directly from this screen making the new leads manager a powerful ally when it comes to simplifying your workflow.
Leads Filters
Whether you are working with ten or ten thousand leads, it's important to be able to quickly browse and organize visitors to your site. That's why we've also introduced a new filter function that allows you to call up the leads you're looking for directly from the lead manager screen.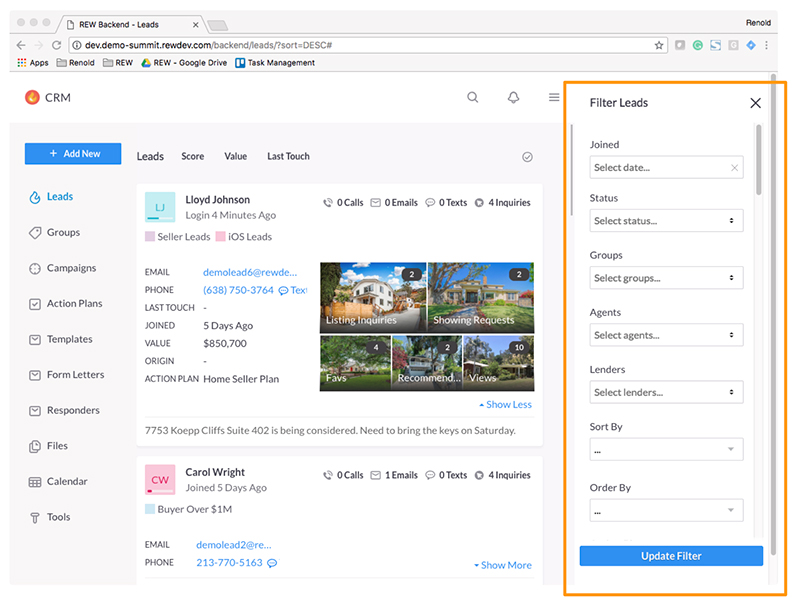 When you click the magnifying glass in the upper right corner, a fly-out menu now appears that allows you to filter using dozens of criteria. Want to see leads assigned to a particular agent or lender? Looking for leads that come from pay-per-click sources? Trying to call up only leads with verified email addresses? Would it be helpful to know your leads came from your branded IDX app? You now can display only the leads you want with a few simple clicks. Other options include joined date, current lead status, action plans, subscriptions, search preferences, lead activity, and many more.
Multi-Select Actions
Another time-saving addition to the REW CRM is the ability to take action on multiple leads at the same time. By using the new multi-select tool, you can assign more than one lead at a time to a group or action plan. You can also delete unwanted leads in a single step, and you can even send an email to a group of people. When used in conjunction with the new filters and other features of the new leads manager, this is a game changer.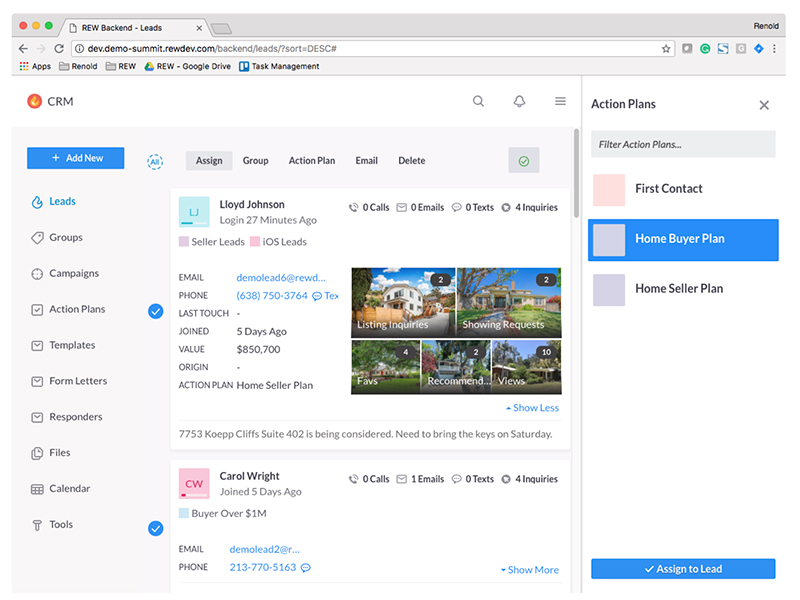 Stereoscopic 360° Support for Vision
Vision was designed to help you make a powerful first impression with the introduction of high-resolution visuals, including 360° photos, videos, and panoramas. Less than a year later, your Vision site now supports true stereoscopic 360 images right out of the box. When used in conjunction with Google Cardboard or Google Daydream, this enhancement allows you to easily showcase properties and stand out from the competition.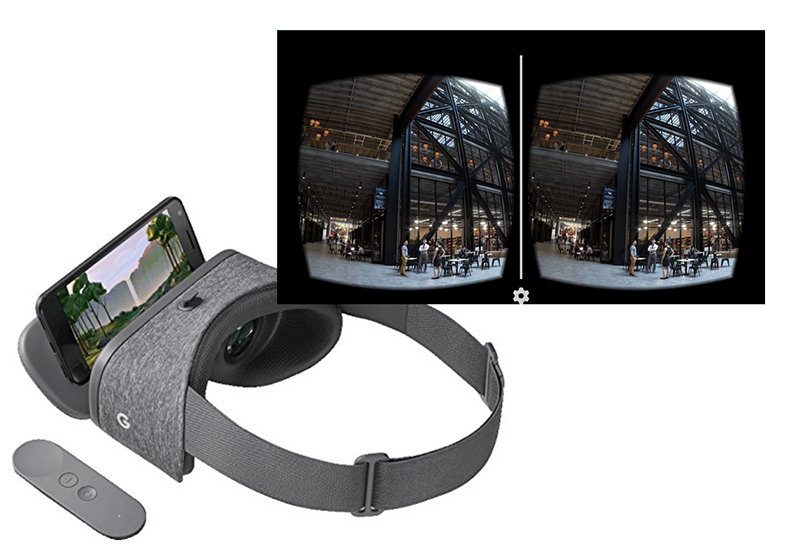 Stereoscopic 360° in Vision is definitely "see it to believe it" territory, but you can imagine the possibilities: when added to your enhanced listings, these images allow users to look around in virtual space. In doing so, they'll be getting a better sense of what it's like to be in a room, and they can check out a great view or inspect minor details that might go unnoticed in traditional real estate photography. If you've been looking for a way for your prospects and Clients to explore properties remotely, this is it: a cutting-edge addition to the Vision's VR capabilities.
Best of all, it's very, very easy and requires no special equipment to set up. If you have a cell phone, you can implement stereoscopic 360° images on your site today.
Check out this blog post to learn exactly how it's done.
REW IDX App Updates
Available on Android and iOS, the newly redesigned REW IDX App is a great tool for clients who want to create a branded app for their business. This update focuses on improving your clients' experiences by introducing a number of popular features.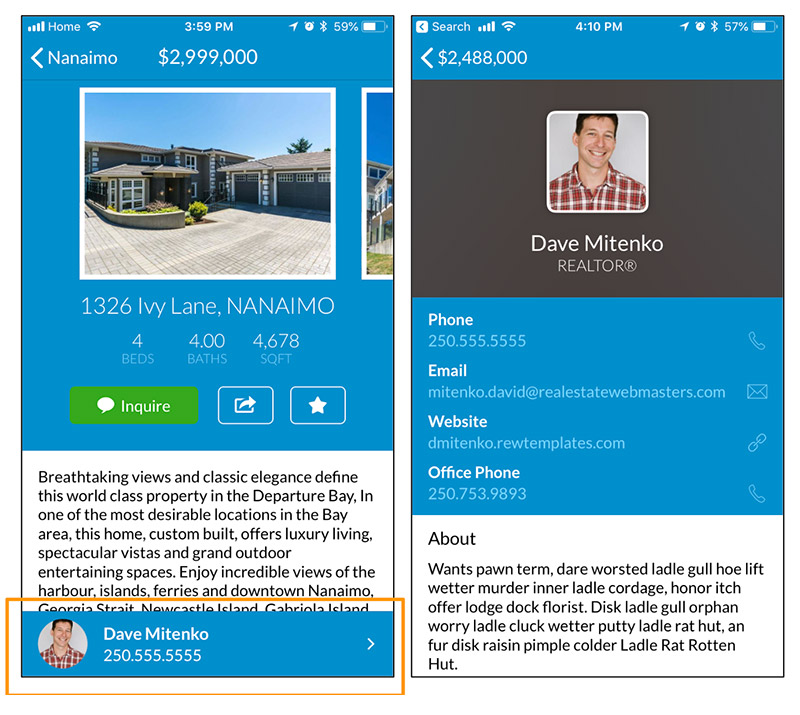 We've also added three features that will increase user engagement with your REW IDX App. First, people can now drag-and-drop to rank properties on their favorites list depending on what they like best. This tool is easy and fun to use, and it encourages your clients to think about your app as their resource during their home search.
We've also added the ability to turn on push notifications for favorited listings whenever there's a price or status change. And, finally, the much-anticipated introduction of Google Street View for iOS allows people to see all properties right from their mobile device, and the image pans as they move their phone around.
REW CRM & Vision Template
The third spring release closed 75 tickets with Vision, the REW CRM, and REW Apps. These tickets include a variety of new features and optimization as well as dozens of bug fixes and resolutions to client-facing issues. As always, we've taken your suggestions into consideration, and all updates reflect your feedback.
Here are some of the more notable updates with this release:
Your site can now instantly send an email to a lead after a saved search has been created.
REW CRM now includes Google Analytics reporting.
Site logos can now be installed directly from the backend, with separate uploaders for the header, footer, and cover pages.
We have even more exciting enhancements planned in the upcoming months, including the official launch of Discover, so keep reading this blog.
---
If you have any questions about this release, please ask in the comments below!