We live in a world that's downright obsessed with smartphones, tablets, and overall screen time.
And yet, apps are nearly ignored completely by most real estate businesses. But they're starting to gain popularity with the heavy hitters. Zillow, Realtor.com, and Redfin now have mobile apps.
It's time for agents to step up and take advantage of this underutilized marketing channel.
Why would an agent need both an app and a website?
As a real estate tech provider, we had to ask ourselves this question.
When we did, we found overwhelming evidence that we should be building apps too, which is why we created the REW IDX App for iOS and Android.
Here's what convinced us:
1. Apps provide a better user experience.
Remember the main reason your clients are using your technology: They want a convenient way to search for homes.
Therefore, your goal should be to provide potential and existing clients with the best possible home search experience.
And apps do just that.
Apps are built only for mobile
Consider that even the best mobile website is a compromise.
A mobile site takes all of the information from a desktop website and adapts it as best as possible for smaller screens and touch interactions.
The end result is an information-heavy experience, full of detail and distractions.
But because mobile apps are downloaded later in the sales funnel, they can forego a lot of the detail expected on a desktop or mobile site.
Mobile app users don't expect or need to find lengthy resources like a home buyer's guide, company biographies, or detailed neighborhood descriptions. You already hooked them.
Instead, people using real estate apps just want to search for homes in the most convenient way possible. That's it.
Apps are lightweight
"The more functionality you have, the more complicated it gets for the user to understand," said Andy Madan, the lead iOS developer at Real Estate Webmasters.
"This problem exists on desktop websites too but it's amplified on mobile devices. Because of size constraints, apps have to focus on what users want or need the most. There's no room for fluff."
Without the distractions required on a website, real estate apps can focus on the goal of creating the best property search possible for each individual device. Every feature and function is created and optimized for device-specific interactions, resulting in a stronger user experience.
"When we build real estate apps, we intentionally construct every element and consider it within the mobile context. We're constantly thinking about how the user is going to interact with each element on their device and optimize the app for the micro-moments that intuitively guide our decisions. Significant time and care are put into user experience and, as a result, native apps are easier to use and understand than mobile sites," said Andy.
2. Apps create more engagement than a website.
87% of millennials never part from their phone. As a real estate agent, that means you can connect with a huge portion of the buying population at any time once they've downloaded your app.
Research by Criteo concluded that apps deliver 2 times the new user retention power when compared to mobile web users, and app users are twice as likely to return within 30 days.
Why? The result of superior mobile experiences is better stickiness, loyalty, and conversion.
In fact, Criteo's research of the retail shopping industry concluded that apps have the highest conversion rate out of any online channel.
By contrast, mobile websites have the lowest conversion. Desktop falls in between the two. Users naturally gravitate away from the poor experiences they have on mobile, even if they aren't consciously aware it's happening.

But apps have another secret weapon that actually exists outside of the app itself:
Push notifications.
Once someone has downloaded your app, you are free to send push notifications directly to their device—and it's a tool that you should take advantage of.
For example, the branded REW IDX App for iOS and Android can trigger push notifications in any number of ways:
New listing updates
Price reductions
Property recommendations from their agent
In-app messages from their agent
These notifications are far more likely to result in user engagement than an email. They keep users coming back to the app, over and over.
Of course, more user engagement ultimately results in more closings.
3. Apps improve brand loyalty and recognition.
Several years ago, Adobe reviewed data from over 600 brands and published their findings on mobile apps and their correlation to loyalty.
The quick summary is that apps are used more frequently and for longer periods of time than mobile websites, and the study concluded that "building a mobile app is a worthy investment as users of mobile apps are more loyal to the brand versus those who just visit the website from their mobile device."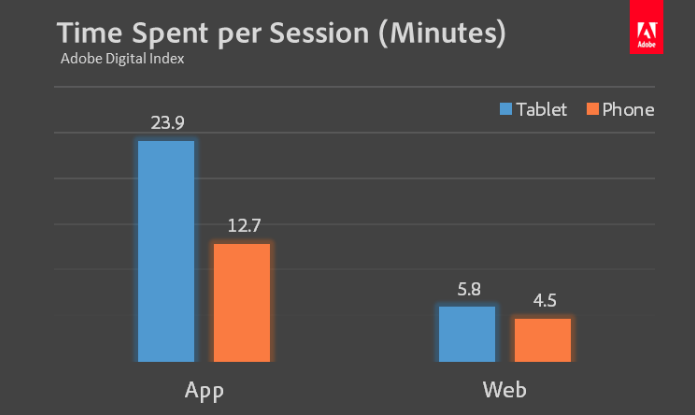 Couple Adobe's research with the "effective frequency" concept, which tells us consumers need to see a brand approximately 20 times before they feel loyal to it, and the increased visibility and usage of mobile apps suggests apps are a fast-track to securing new business (without having to do a thing!).
In the case of the REW IDX App, the app is branded with your logo and colors, meaning your branding will be solidified with your user every time they load up your app.
4. Portals like Zillow and Redfin already have apps.
A lot of buyers and sellers don't enjoy browsing real estate on the mobile web.
In fact, they'll actively avoid it and seek out apps instead. We discovered this behavior during our own market research.
When the only apps available in a market are from portals like Zillow and Realtor.com, users are practically driven straight to these competitors, who are then given the prime opportunity to secure their loyalty and business for life.
"I use mobile, but not for agents' sites. You get way better functionality on the Zillow, Realtor.com, and Redfin apps," explained one of our research respondents.
If real estate agents genuinely want to compete with the portals, they need to be on the playing field, at the very least. Mobile apps put agents in the game and provide the opportunity to keep mobile traffic on their own site.
And that's not all...
While brand loyalty, user experience, and user engagement are convincing enough, there are several other reasons real estate professionals would be smart to invest in a mobile app:
Demonstrate savvy and innovation
Improve company visibility
Stand out from the competition
Show clients you're successful enough to afford apps
At the end of the day, there are a lot of great reasons to invest in a mobile app, and the data outlined above shows us that consumers agree.
So how do you get people using your real estate app?
Now that we agree that real estate apps are a big deal, let's talk about how users find apps in the first place.
Many real estate agents are familiar with the concepts of lead generation and lead conversion, but they aren't quite as clear where mobile apps fit into those processes.
The answer? In between.
Apps are the perfect lead nurturing tool. Just like drip campaigns or long-term action plans, mobile apps are a phenomenal way for you to keep in touch and maintain a relationship with a buyer until they're ready to make their next move.
But first, you need to get buyers onto your app.
The need for app marketing is reinforced by Google and Ipsos Reid research, in which users were asked: "In which of the following ways have you first become aware of smartphone apps?"
52% - friends, family, and colleagues
40% - browse the app store
27% - search engines
24% - company website
22% - TV
Notice that all of those answers rely on an informant. Someone or something had to make the person aware that the app existed. So, let's talk a little bit about how we do that with a real estate app.
1. Tell everyone about your app.
First and foremost, agents and brokers need to tell their clients that they have an app!
This sounds obvious, but we have seen numerous real estate agents purchase an app and then never try to promote it.
While they do get a few users here and there, it's nothing compared to the agents who actively push their app out to their network.
For every potential client you meet, show them your app. Put it in their hands. Download it on their phone for them. Do that, and you're off to a great start.
2. Convert web users into app users.
The most obvious opportunity for getting leads onto your app is through your website.
Your leads are already on the website and the app is going to sync data between the two, so it's a natural hunting ground for app users.
Here are a few ideas for converting website users into app users:
Include the download links in your registration auto-reply
Add the official download buttons to a visible spot on the website
Send an email reminder every few months
Include the Apple Store and Google Play buttons in your email signature
Remember, the goal here is to get your website leads onto your app so they can have a superior customer experience.
3. Advertise on the app network.
How do you get your app in front of people who aren't on your website but already love apps? Advertising.
According to Google research, 47% of people have downloaded an app from a banner or graphical ad within apps. Mobile app advertising is a skill in itself, but it can be extraordinarily effective in driving app downloads. Real estate agents who want to get into this space should look into mobile ads to ensure the best possible audience is being reached.
For Android devices, Universal App campaigns allow you to share your app across the search network, display network, Google Play, and YouTube. Similarly, Apple enables people to advertise in the App Store or within other apps using a couple different campaign options.
4. Advertise on search engines.
1 in 4 app users discover an app through search, and people are searching for apps in the search engines. That's pretty cool because it means there's potential for users to find your app "accidentally" before they know you exist.
In fact, let's take a look at the Google Trends for the search term "real estate app" in the United States: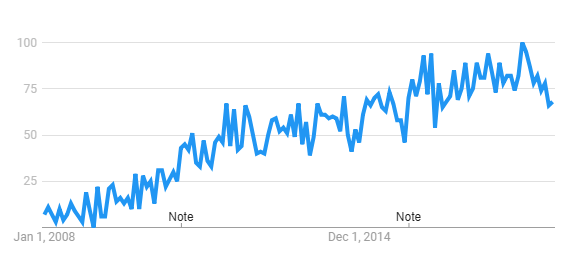 Searches of "real estate app" from 2008 to 2019 (Google Trends)
Searches have kept climbing since 2008 and there's no sign of that stopping anytime soon.
Ranking organically in the search engines for this keyword is an undertaking in itself, and it's highly unlikely that a mobile app page will outrank big real estate websites, but you can use paid ads to get your app in front of major keywords.
Better still, they can target ads specifically for mobile devices, and geotarget their audience right down to a specific location. As a result, there's a huge opportunity for increasing app awareness through paid advertising.
5. Optimize your app store listings.
In addition to letting people know about your app, it has to be easy to find in the app store.
While some people naturally seek out apps, others will have to be referred by a friend.
In either scenario, it needs to be extraordinarily easy for these app seekers to find your app when searching for it.
Both the Google Play and Apple Store allow app descriptions and metadata to be updated. Ensure you have a complete profile that accurately describes your app, including the location that is served, and make sure it contains relevant keywords.
You can also make your app easy to find by including it on your website, in your email signature, and in any other location where buyers and sellers might look up your company or contact info.
Further Reading: 14 Ways to Promote Your Real Estate App
Apps: A Missing Link for Real Estate
Real estate apps are missing in far too many agents' online strategies.
If you're a modern agent or brokerage who wants to build a meaningful connection with buyers and sellers, it's time to take a serious look at real estate apps.
Does your real estate business need an app? Take a leap forward and learn more about branding the REW IDX App for iOS and Android for your business.