It's official: Real Estate Webmasters is celebrating our 15-year anniversary.
All month, we'll be taking a trip down memory lane, highlighting 15 years of innovation, customer success, and being awesome.
We're also excited to offer one of our biggest promotions ever (over $20,000 in free products). Be sure to check that out if you're in the market for the latest real estate technology.
Editor's note: This promotion expired April 30, 2019.
A Big Thank You
But before we go anywhere, we want to thank you, our clients.
Whether you're new to REW or you've been around since the beginning, we owe everything to your willingness to push boundaries in the real estate industry.
We aren't successful until you are (customer success is one of our core values), so your partnership means everything to us.
So from the bottom of our hearts: thank you.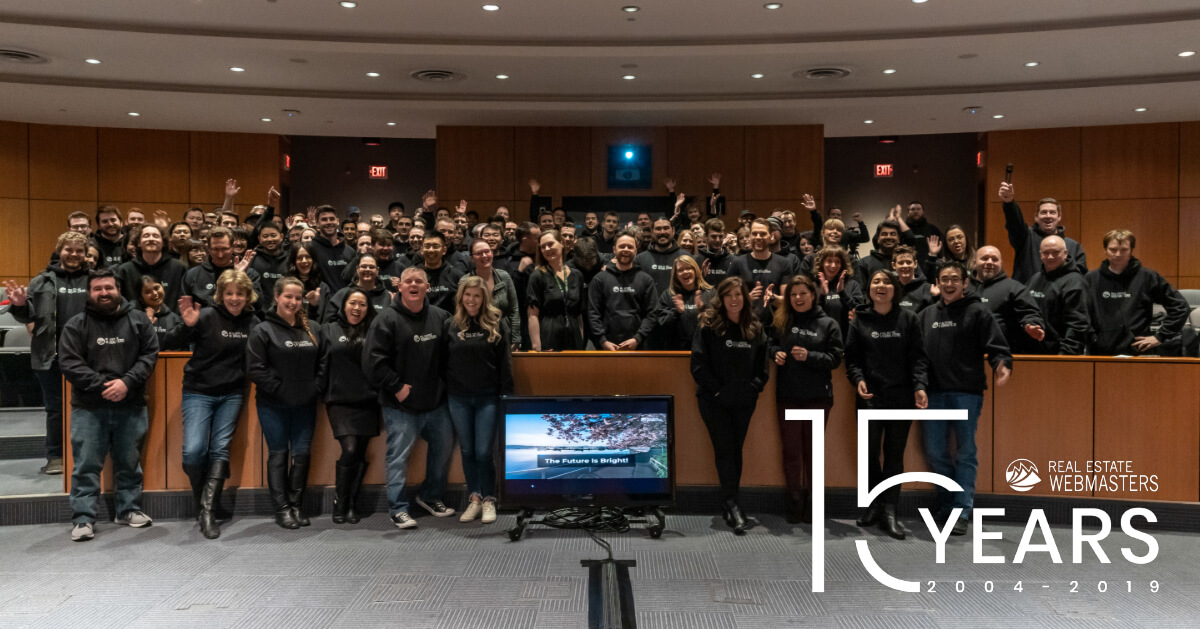 REW Town Hall Meeting, February 2019
What was technology like back in 2004?
For context of how far we've come, here's a brief snapshot of the state of consumer technology in 2004, when REW was founded:
"Blogging" was Merriam-Webster's word of the year
Facebook was just being rolled out to its first college campuses
YouTube didn't exist yet (founded in 2005)
Google Chrome was 4 years away
iPods were at peak popularity (the iPhone was 3 years away)
The Motorola Razr was the most popular cell phone on the market
WiFi and Bluetooth were just taking off
Internet usage surpassed TV viewing for the first time
A Brief History of Real Estate Webmasters (REW)
Real Estate Webmasters actually started as a forum—a discussion board for real estate agents to swap website and SEO tips.
We had several customers who we'd already helped dominate the search engines through our SEO practice, so the idea exchange was beneficial on both sides as it really helped us learn about the real estate.
The forum quickly grew to over 50,000 members, which highlighted a huge demand for high-performing real estate websites and marketing services.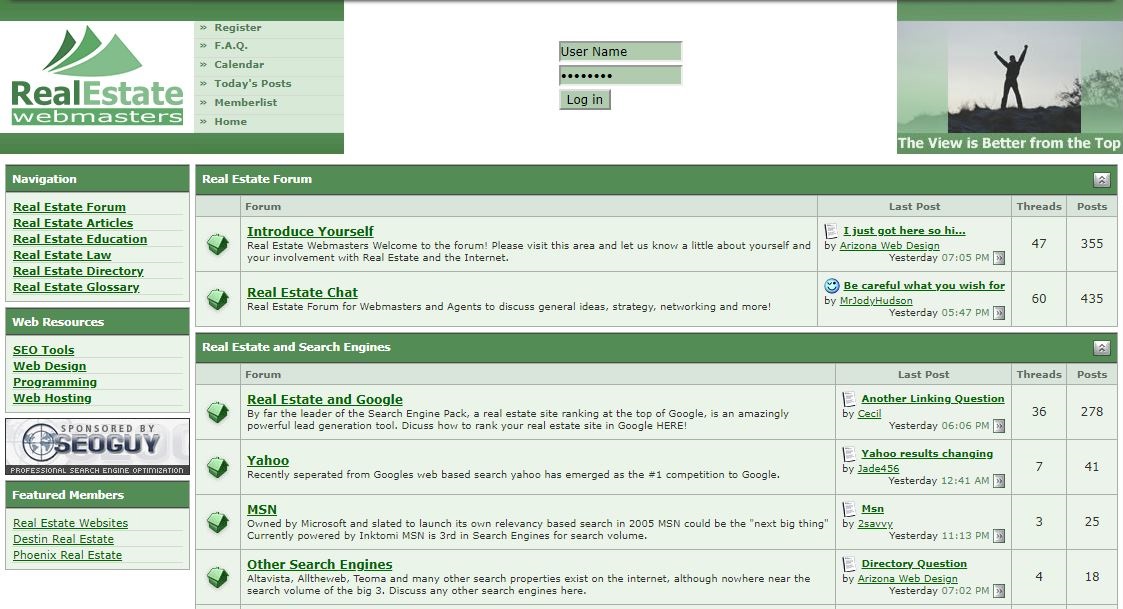 The original Real Estate Webmasters Forum
We officially launched our first version of Real Estate Webmasters on April 9th, 2004 and never looked back.
Today, Real Estate Webmasters is on track for over 75,000 paid users by year's end, approaching $150 million in aggregate revenues, and almost 150 in-house team members making us one of the most successful companies in real estate technology.
And it's all thanks to you! Our amazing, long-time clients who have supported us every step of the way.
Our 15th Anniversary Offer
It wouldn't be a birthday celebration without an amazing offer! Which is why I'm so excited to announce our special 15th Anniversary offer.
From April 1-30, anyone who purchases a Vision or Discover website platform on a 3-year SaaS contract will also receive 3 free years of:
Branded REW IDX App for iOS and Android, including app SaaS ($15,800 retail) — Something I believe every agent team or brokerage should have
REW Text ($1,800 retail)
INRIX Drive Time ($1,800 retail)
Get Local ($1,800 retail)
CMA Tool ($720 retail)
And if you already have the REW IDX App or apps don't fit your marketing, we'll substitute one REW Summit + Inman Connect Las Vegas Full-Access Ticket in its place (that's right we'll buy you an Inman and REW Summit Ticket for Las Vegas!).
All prices above are in USD. Terms and conditions apply.
Overall, that's up to $21,920 USD total in retail value, all included with your website.
You can learn more about the 15th Anniversary Promotion here.
Editor's note: This promotion expired April 30, 2019.
Here's to another 15 years of success!
Tags